We have a lot of things going on now, so I thought it would be useful to write them all down. Some are project updates, some are things I'm still thinking about.
Insulation
Our contract specified regular fiberglass batt insulation in the walls. Once we started removing the ceiling drywall, it became apparent that we need to remove all of it and add support for their ceiling. The existing ceiling was constructed with 2x4s, with some 2x6s tacked on to provide room for insulation. It was clearly not ventilated or done properly, and there was evidence of some mold. The architect and builder told me the best solution was to put in spray foam, which is far more expensive than the insulation included in our contract. This begs the question, knowing the structure of our ceiling, why wouldn't they have included that in the contract in the first place?
Regardless, we have scheduled spray foam insulation to be performed early next week. (Did I mention that spray foam is 10x the cost of the fiberglass insulation they included in the contract?) There are a few extra sections of the house (such as the roof over the stairs) that we discovered were un-insulated, so we're taking the opportunity to insulate any locations where we possibly can.
Light fixtures
Our plans for lighting throughout the house have to change. The hall light fixtures have been torn out along with the ceiling. Since we'll keep the hall ceiling fully vaulted, we can switch this out to a single hanging light fixture.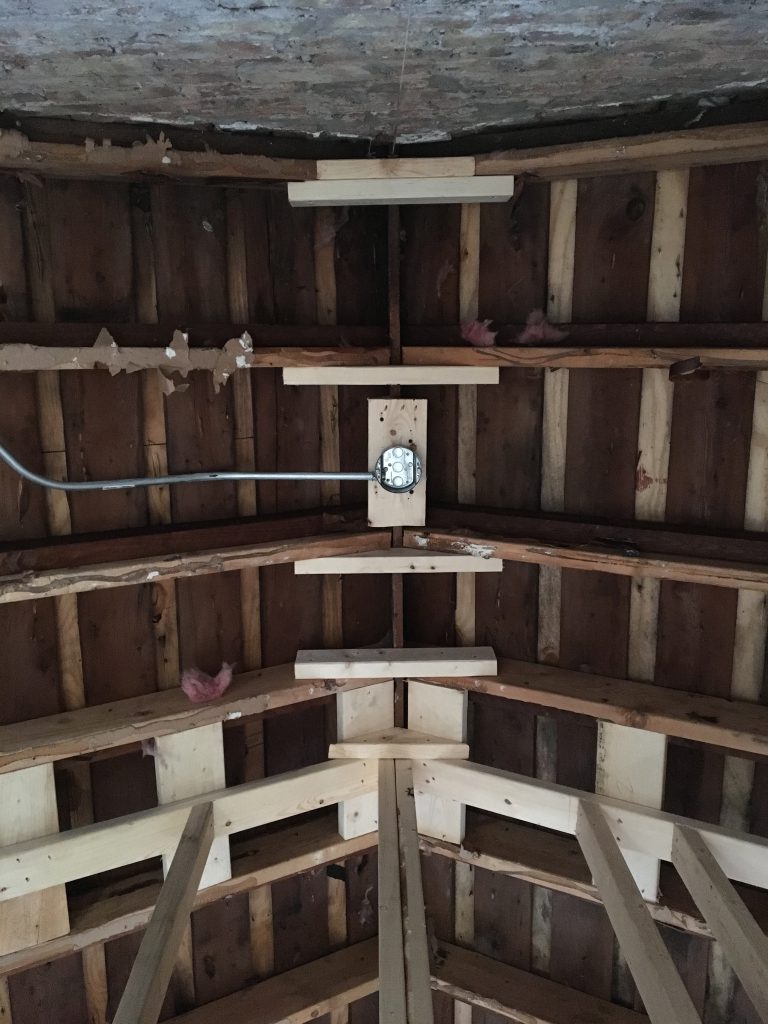 Since the master bedroom will have a flat ceiling (still vaulted, just not cathedral) we can install can lights, and install a light switch for those can lights (rather than have a switch for the outlets as we had planned).
We have the opportunity to install new exterior light fixtures, since we have wiring that must be replaced, and because the walls are open.
One of the interior sconce lights was broken somehow. We'll need to replace all of them if we want them to match.
While we're installing all these new light fixtures, we might as well go ahead and install in-ceiling speakers everywhere we can.
Electrical wiring

There is a lot of old flexible wiring, including the dangerous looking charred one below. The electricians are removing this everywhere they find it and replacing with new wiring. The electricians are generically calling this "Greenfield" which is the name of the inventor of a kind of armored wiring, but I think that there are actually many types of old wiring in our house, including some very old metal shielded cloth insulated wiring. (There is also plenty of knob and tube still inside the walls, but it has all been decommissioned.)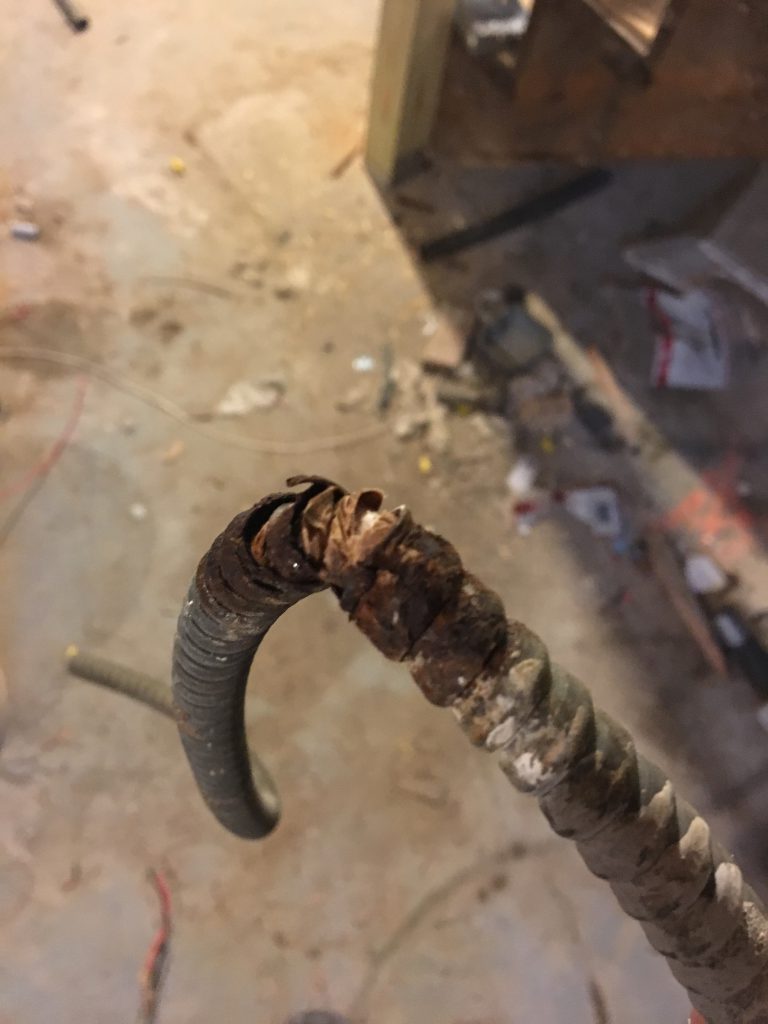 The photo below shows some old cloth insulated wiring connected in to newer wiring.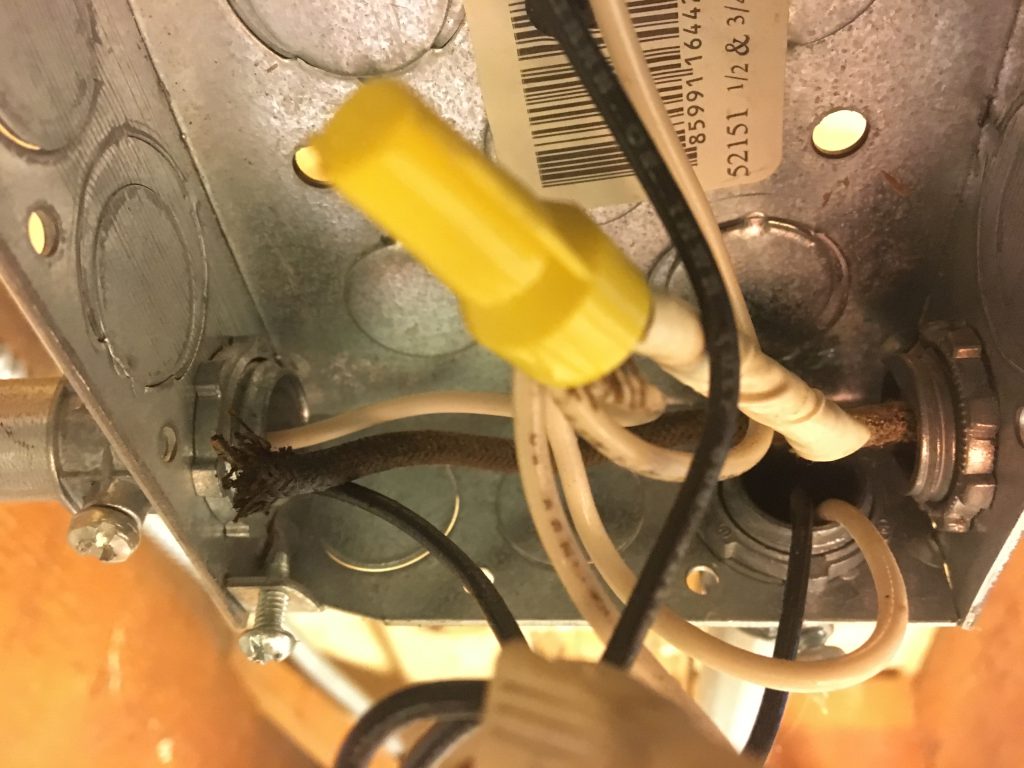 Balcony leaks
Our balcony leaks. The balcony has a flat roof and we had a lot of leak problems last winter, which we attributed to ice dams. However, this spring, we have also had more leaks in this roof, which leads me to believe that it has been leaking into the ceiling over our old kitchen for a long time, and with the ceiling now open, the leaks are more apparent.
So, we are replacing the balcony roof. Below is a new PVC membrane roof being installed. That means they had to grind out a bunch of stucco for installing the new membrane, and that will need to be patched once the installation is complete.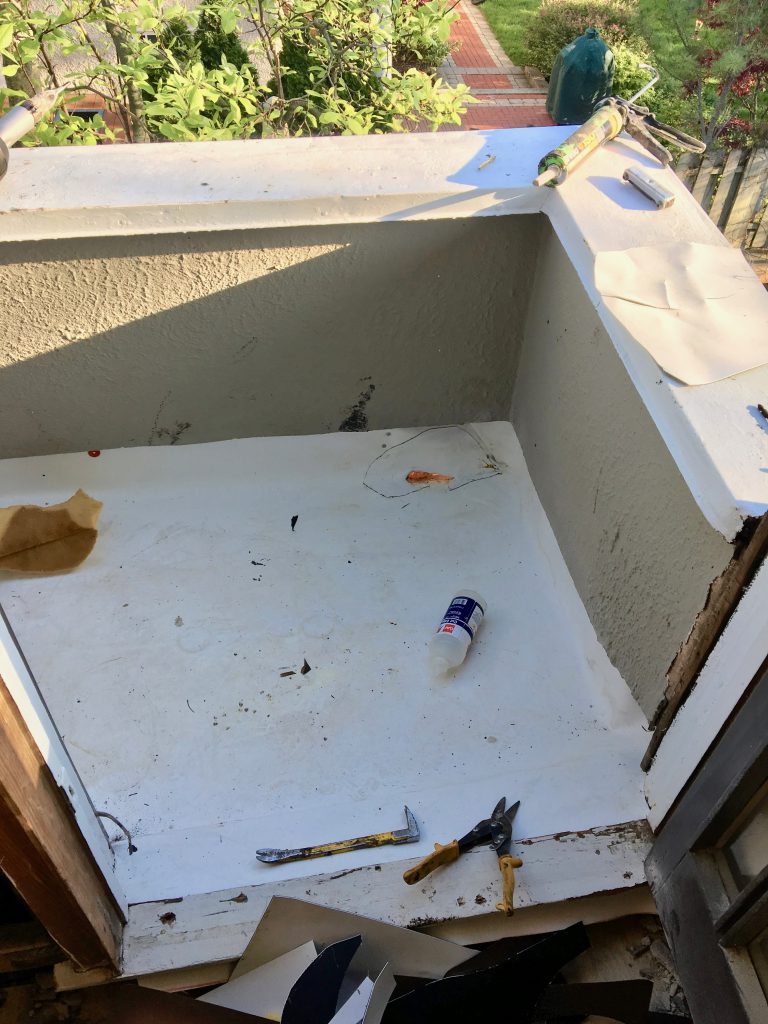 Photo of the balcony roof in the rain. We still need to patch the stucco walls and install custom copper scupper boxes to drain this roof.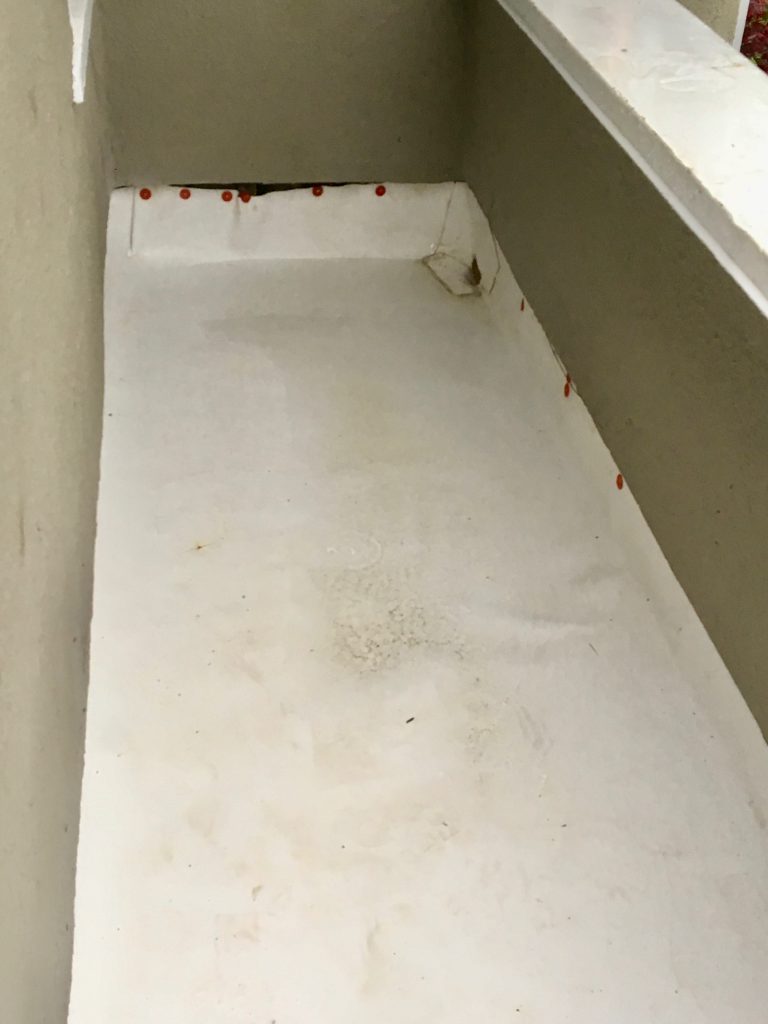 Roof stuff
With all the plumbing work finally done, and lots of holes cut in the roof, we need our roofer back out to patch them all and install lead shields on the new plumbing stacks. Below is the beginning of the new vent protruding through the roof.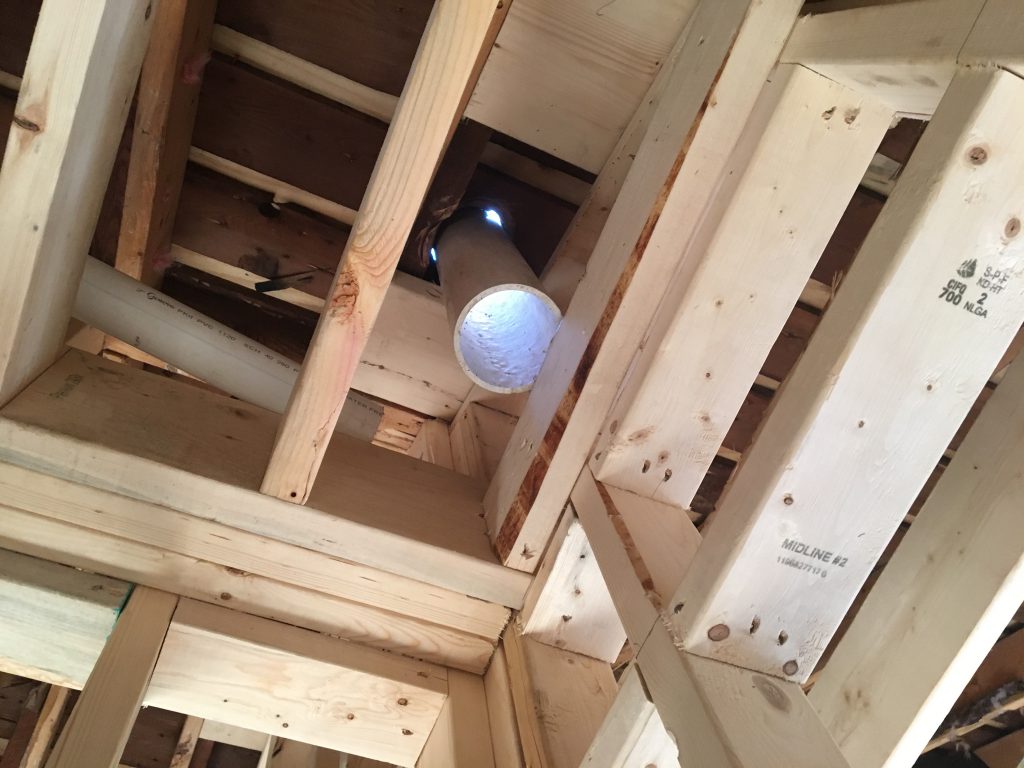 I talked to the roofer yesterday, and they confirmed that they have patched a couple of other leaks that I had identified, so I need to check on those. They are working today to install the bathroom vents and lead shields.
I also need to talk to them about making sure all of the downspouts are level. Some are off a few degrees.
Trees
The village charged us a refundable $1500 permit fee to remove our fruitless mulberry tree. If we replace that tree, they return our fee. So, we have picked out some Cinderella dwarf crabapples that we can plant along the driveway between our house and our neighbor's, where our neighbor built a brick wall (on our property).
Here are some photos of the three trees we bought: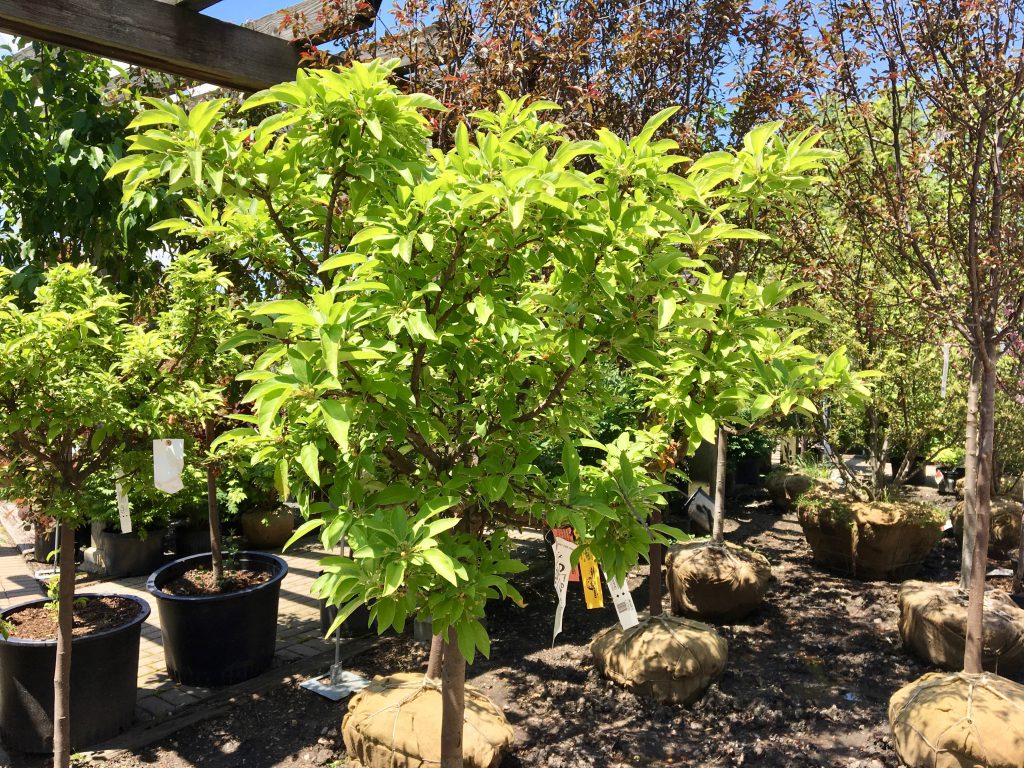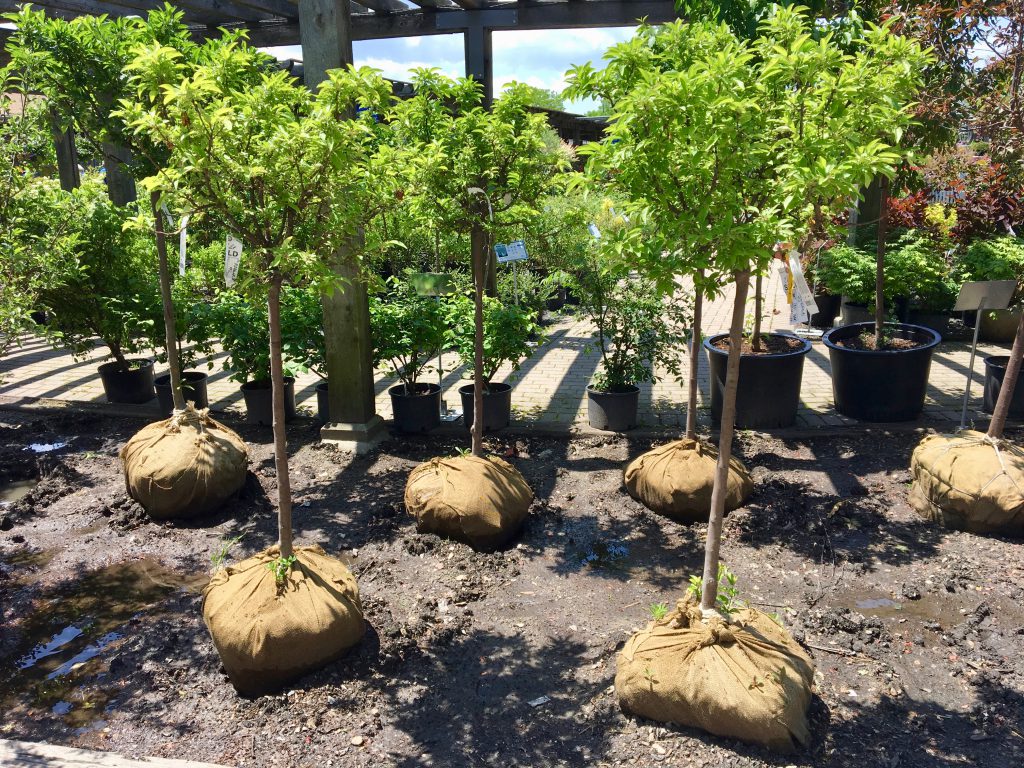 These trees only reach 8′ tall with a 5′ spread. Our intention is to plant them in a line, evenly spaced along the short section of the brick wall below: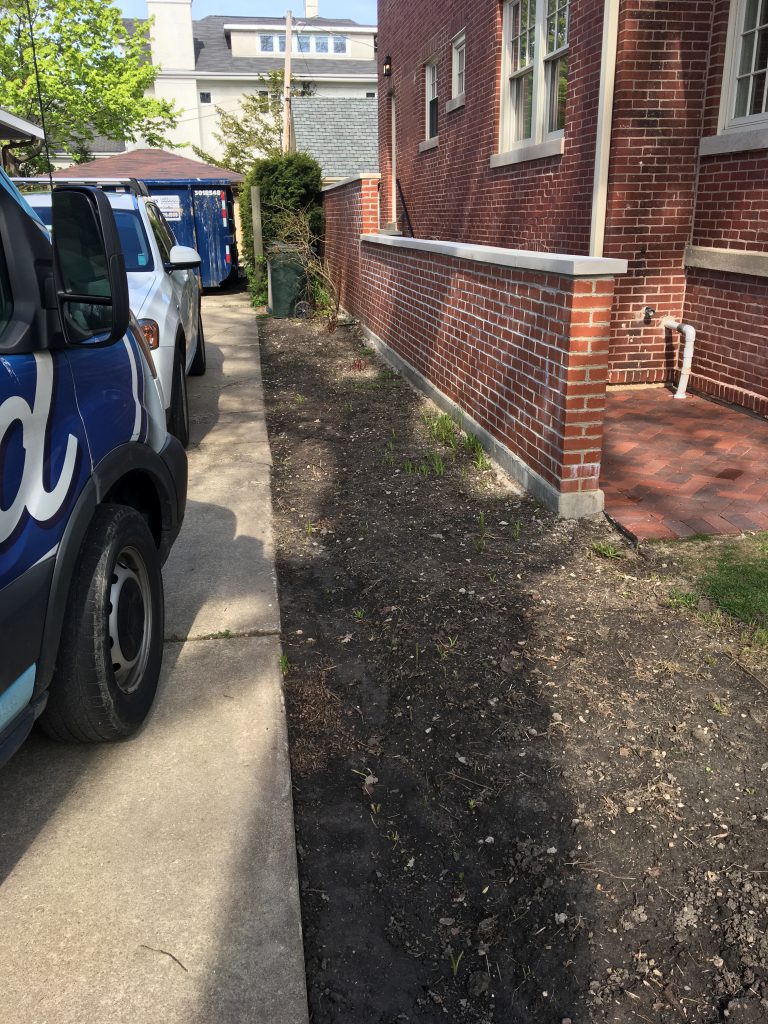 These trees are beautiful when they bloom in the spring. Since they have already bloomed this year, they were 20% off.
We may need to plant another tree to get the full credit back.
Rain, rain
With spring comes rain, and with rain comes flooding in our back yard. Last year, our basement flooded three times, and we installed a powerful Tramco sump pump to combat that during peak times. We also did some DIY yard grading to keep water from ponding at the foundation.
Last night, we had a storm with 2″ of rain overnight. (Here is the closest official rain gauge to our house, showing that this was a surge, not a gradual rainfall.)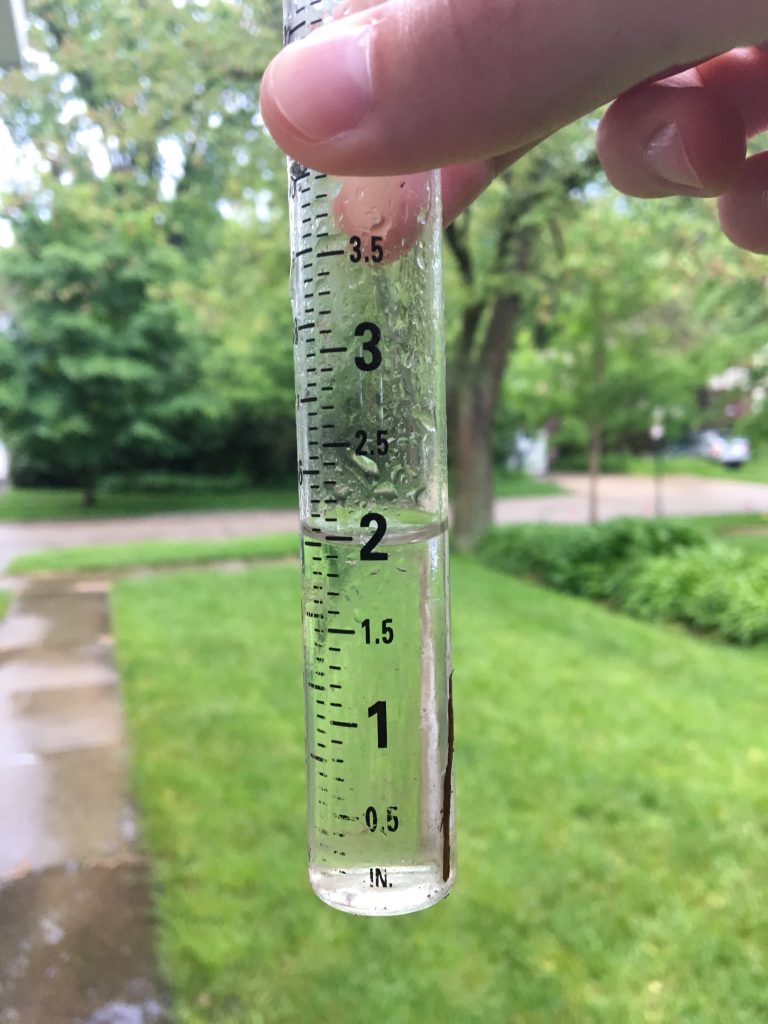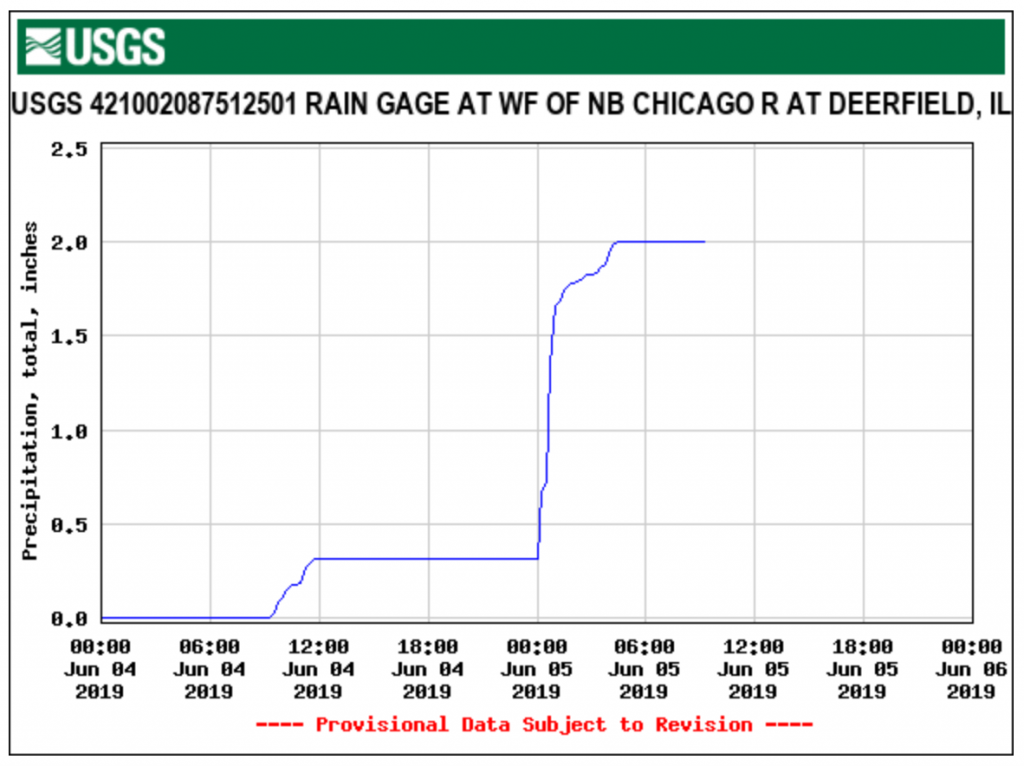 My old-fashioned rain gauge shows a higher accumulation than Deerfield, since I emptied it yesterday evening.
That storm provided us with a beautiful lake to enjoy this morning.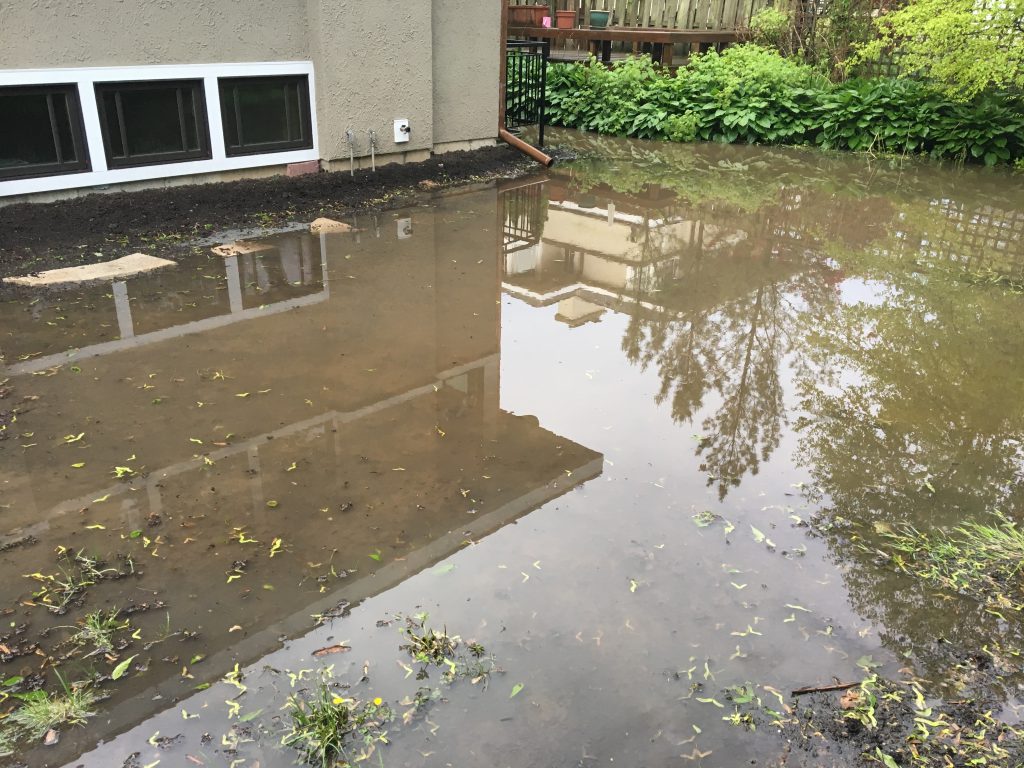 Below, the manhole for our lift station is underwater. These photos were taken hours after the storm, so I think it had already receded a bit.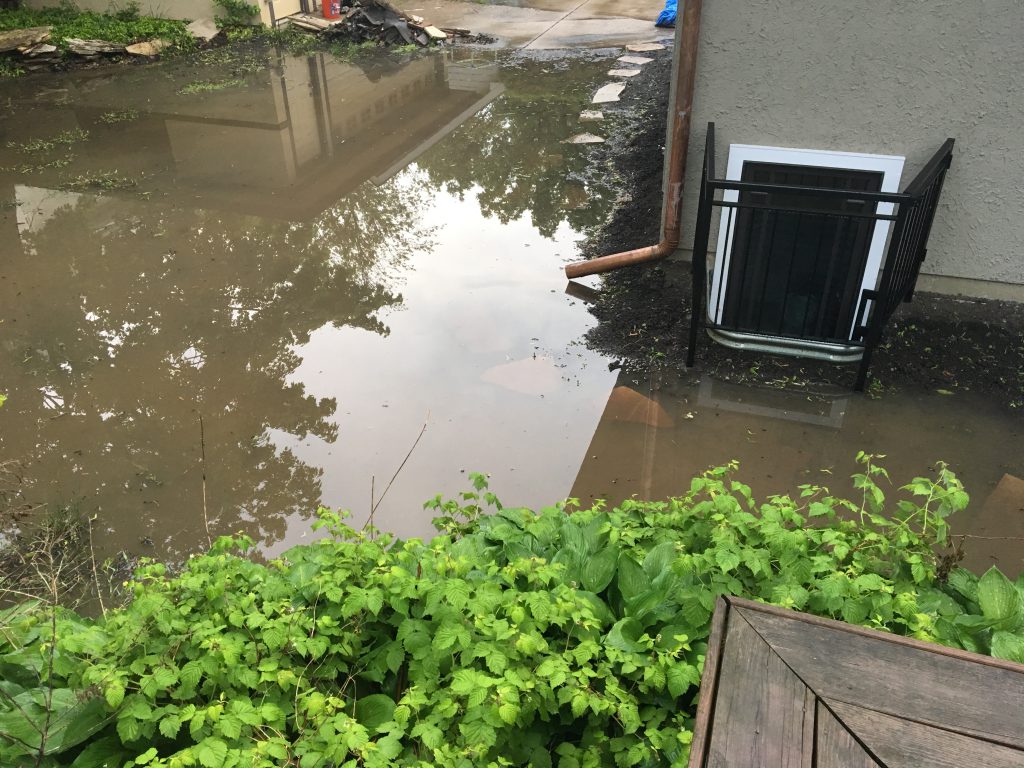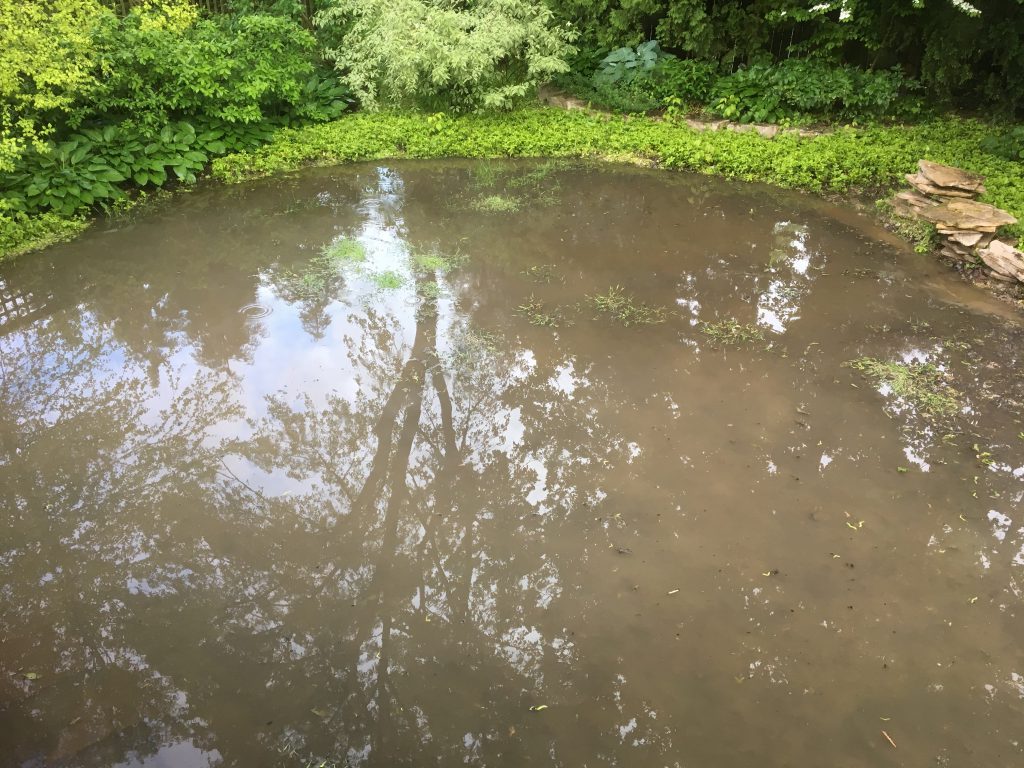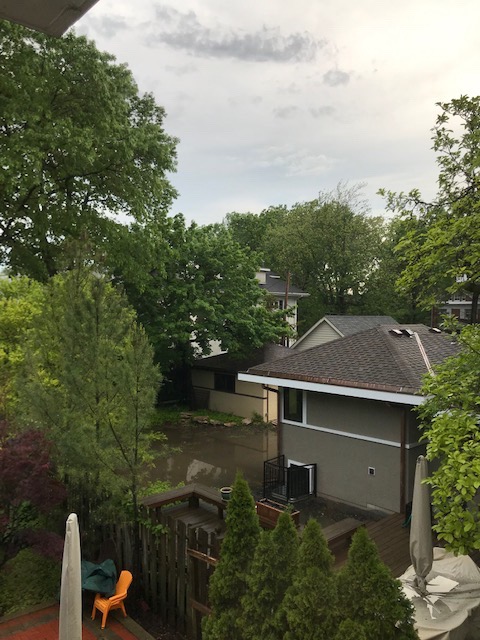 Fortunately, the pumps are working as intended right now and have been able to keep up with the flow, but I'm still concerned. Pumps only work when they have power, and while we do have buried electrical now, there can still be power outages. Transformers can blow, circuits can trip, pumps can break, discharge lines can get plugged (or frozen), etc. I think that redundancy at all levels is essential for a long-term solution.
I have also been exploring backup power solutions, including house generators and backup batteries. A generator that runs off of natural gas would be about $10k, plus ongoing maintenance. We have one backup battery / inverter system that can power one pump in the event of an outage. Perhaps get another one? I'm still uncertain about the best course of action here, but I'm continuing to explore this.
I've also emailed the village to check on the status of the project in 2020 that will bring the storm sewer up to our driveway. This was promised to me over the phone, but I'd like to make sure it's still moving forward. That eventually means extending downspouts and finding a way to pump our water to the storm sewer.
Air Conditioning
We had to disconnect our SpacePak air conditioning and then reconnect it, which meant running new ducts into the new rooms. Our contractor advised installing a "floor drain" in the attic for the SpacePak condensate drain. So, that is installed below.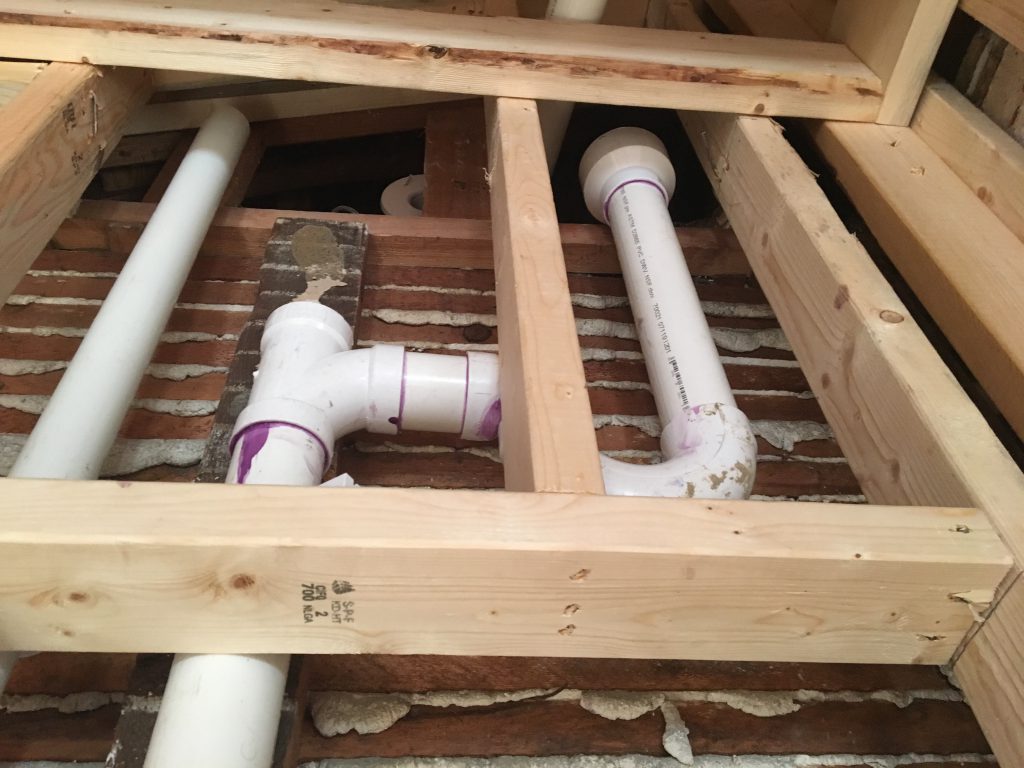 And, properly finished with the vent. These are behind what will be dual medicine cabinets for the hall bath.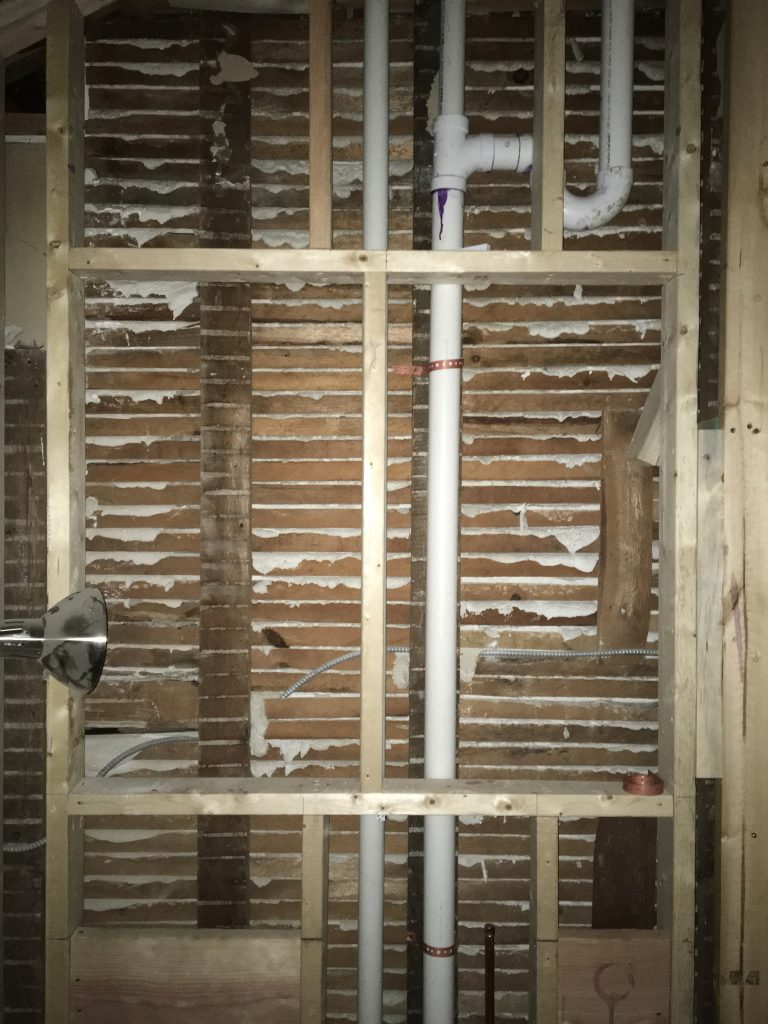 Heat
When our SpacePak contractor was here, it occurred to me that we will only have electric heated floors for both of our bathrooms. No other heat source is in our plan. I asked him to do the heat loss calculations (which I double-checked) and he believes that we need to add more heat to the master bathroom (which has two outside walls and two windows). So, I went back to our architect, and they agree that they need to add some heat, so they are figuring that out. We don't have a lot of space in these bathrooms. Our upstairs is hot water heat, so we could install a radiator, or possibly a towel warmer / radiator.
I also need to see if I can have the radiators painted before they are reinstalled. Below, they have been disconnected and are temporarily stored in a bedroom. They are certainly almost covered in old lead-based paint.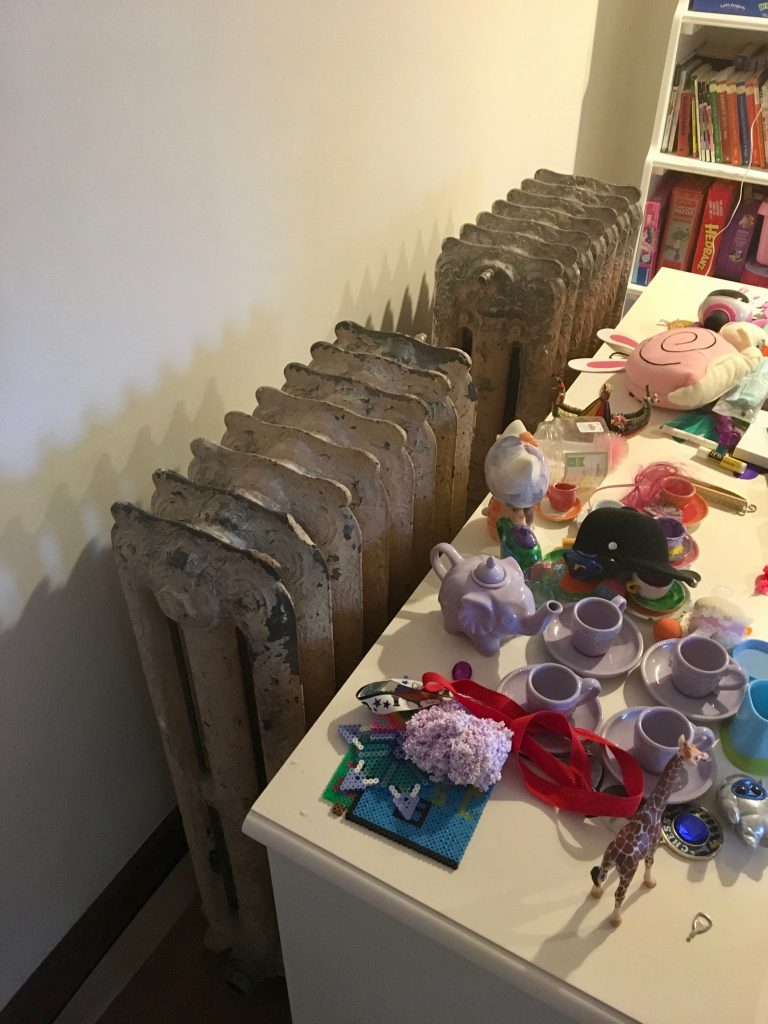 Other Random Problems and Errors
Our new paint is bubbling in many places. This is a photo I took from the roof of the house last night, when I went up there to retrieve a ball that someone threw into our gutter. I discovered that I could just chip away the trim paint on any of these bubbling spots. I have contacted the painter about it (it's under warranty).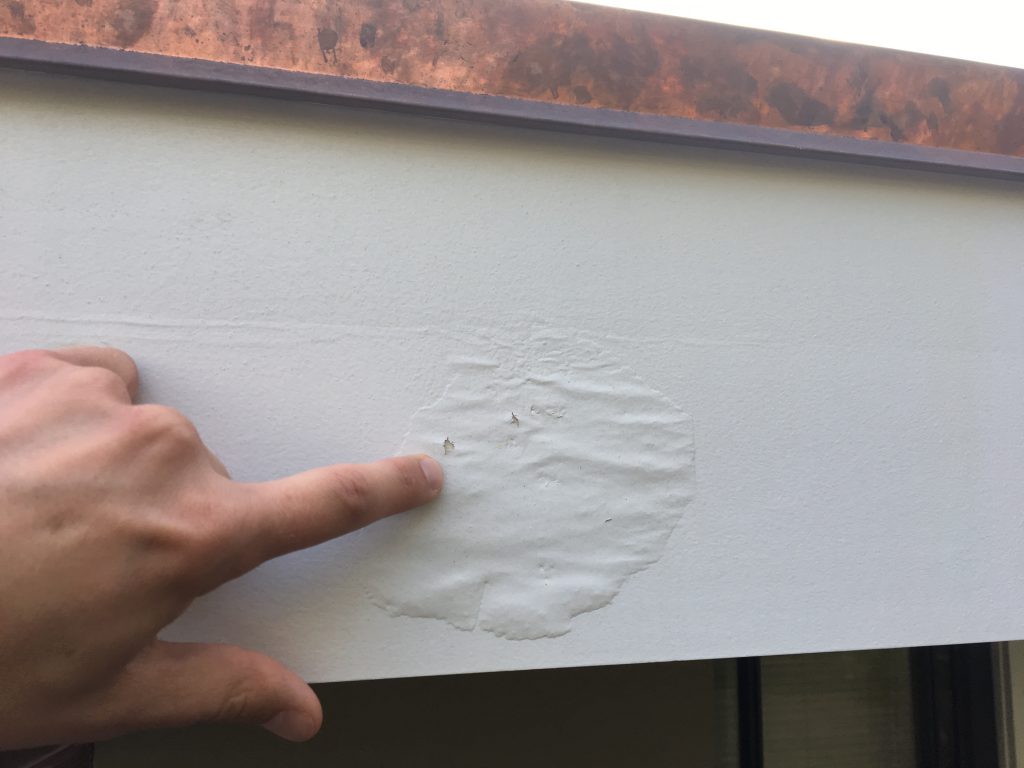 There are a number of minor kitchen things. Some drawers are making scraping noises, some panels are scratched from installation, and there are some alignment issues, such as the dishwasher panel below that has a 1/2″ gap on the left side (but is flush on the right).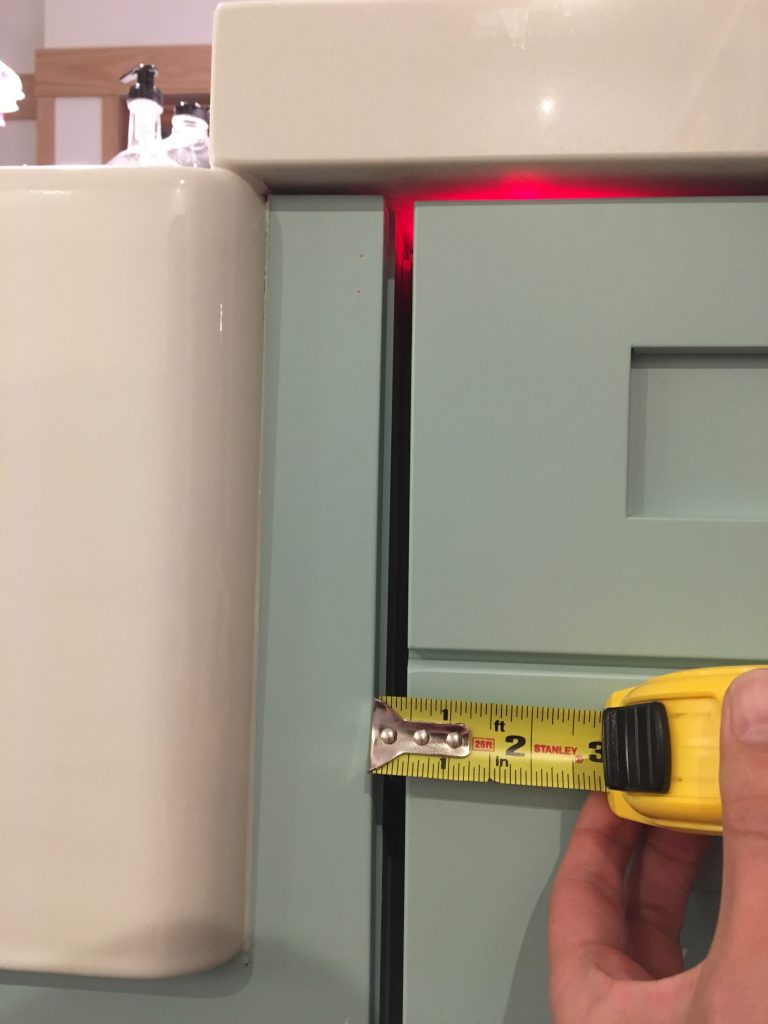 Progress continues
Meanwhile, progress continues. We have passed rough plumbing and electrical inspections, so we can insulate and close up the walls and keep things moving.
Bathtub for the hall bath has been installed: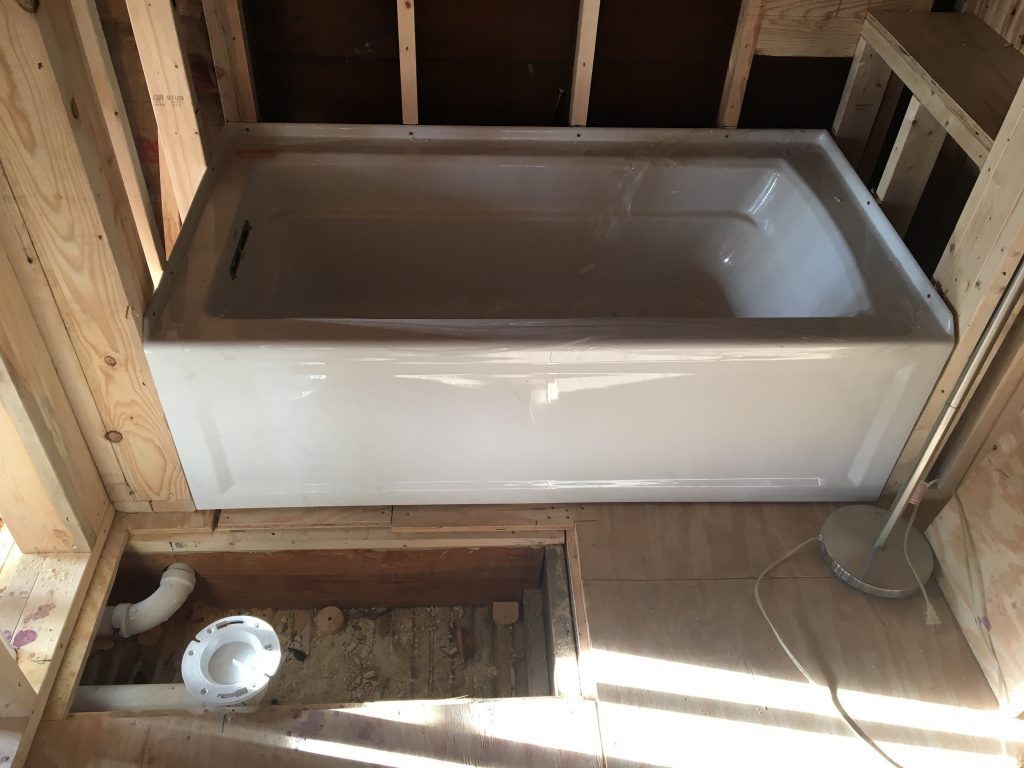 Plumbing stack for the powder room has been installed (it was previously improperly vented). Note the outward-facing junction box, which will serve one of the new outside light fixtures we're adding.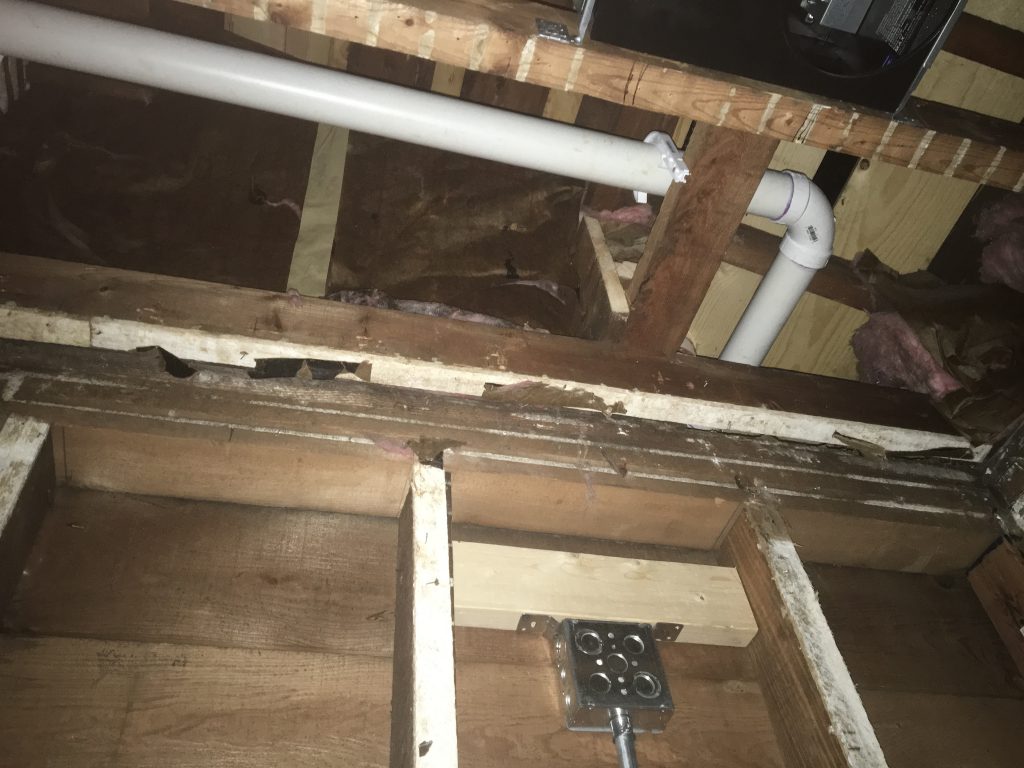 Toilet rough ins are complete. Below is the powder room, where we had to move the existing toilet slightly.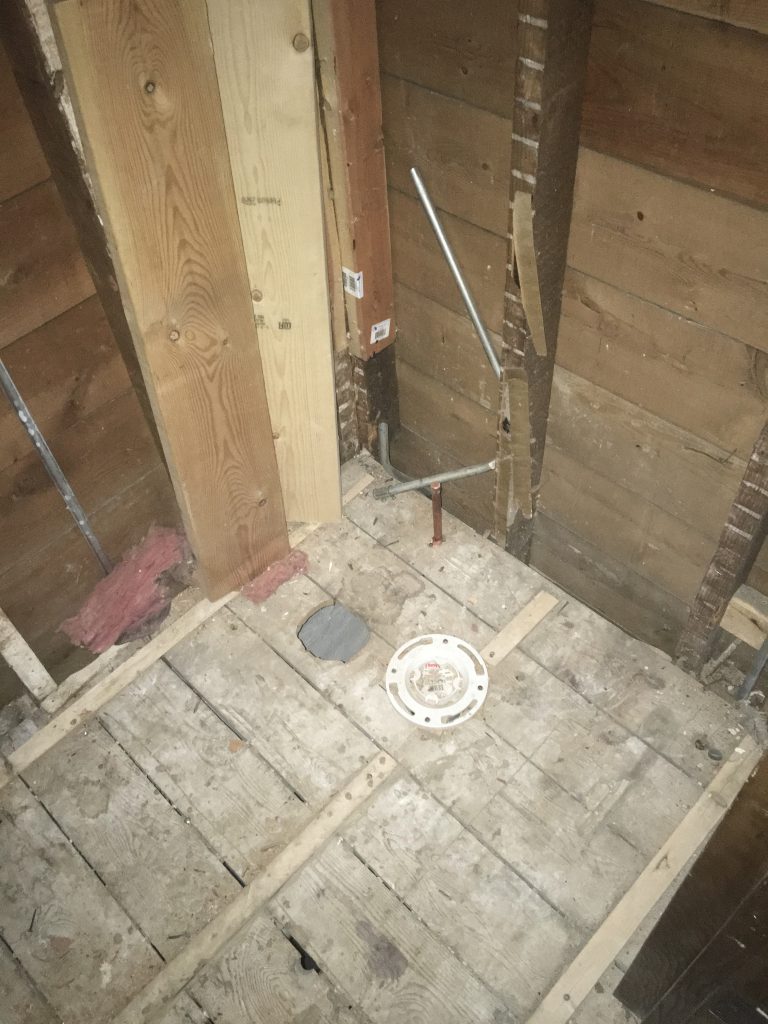 Powder room plumbing. They forgot to add blocking for the sink.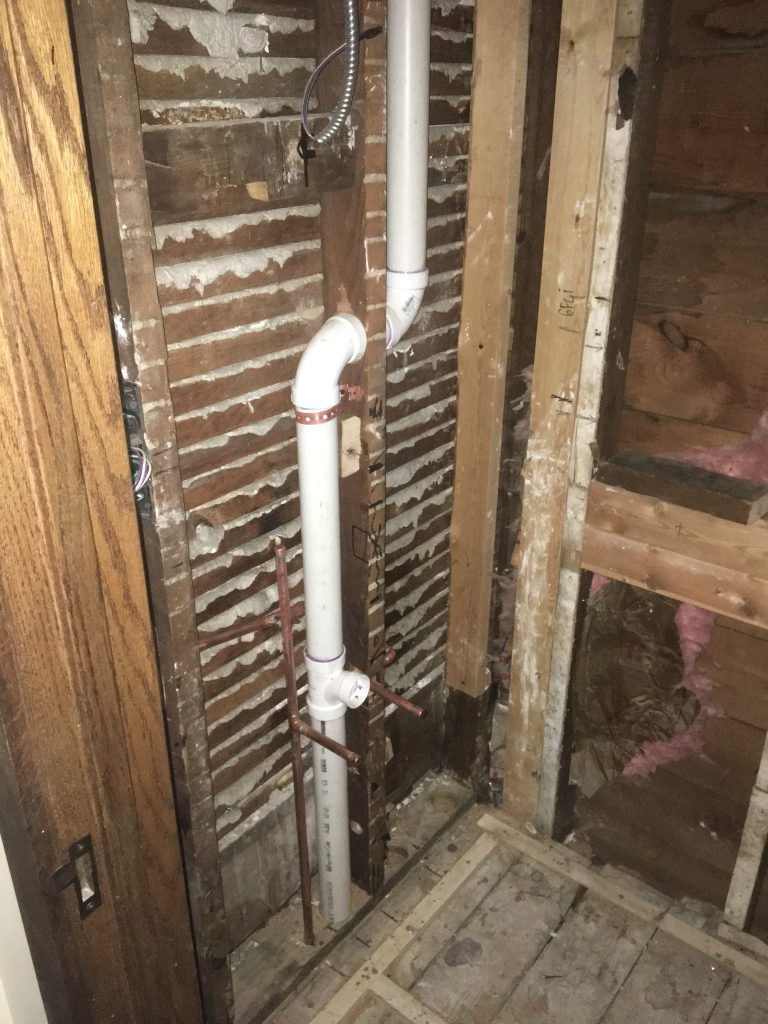 Hall bath plumbing. Notice the SpacePak line set running down the wall to the basement.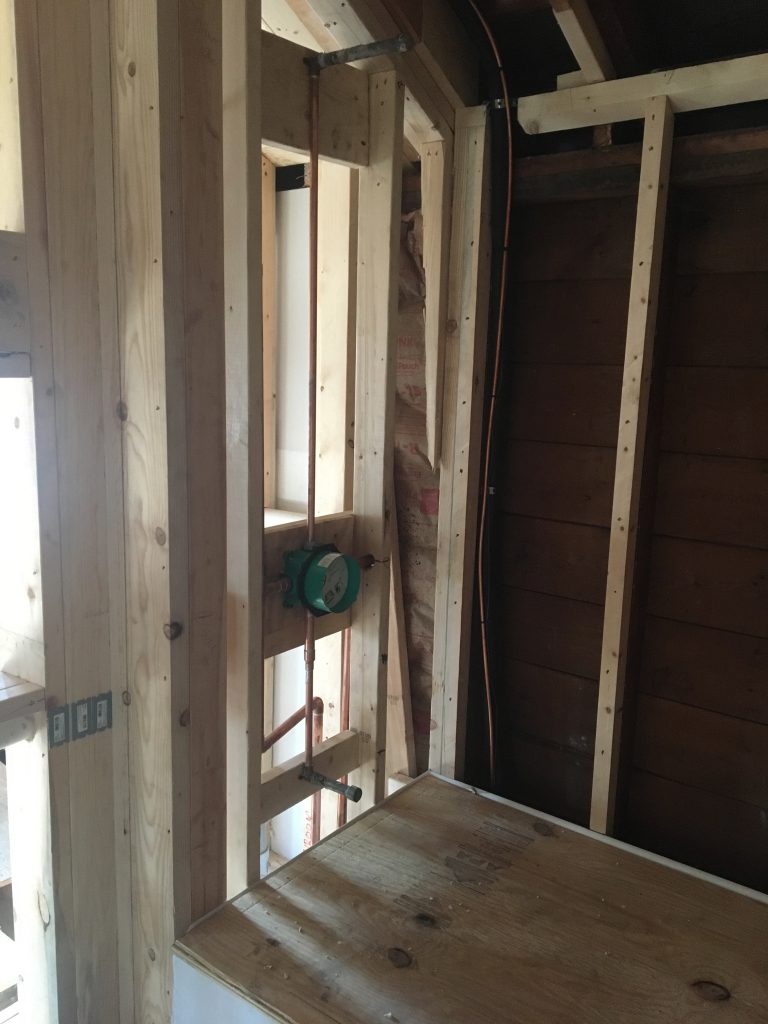 Master bath shower.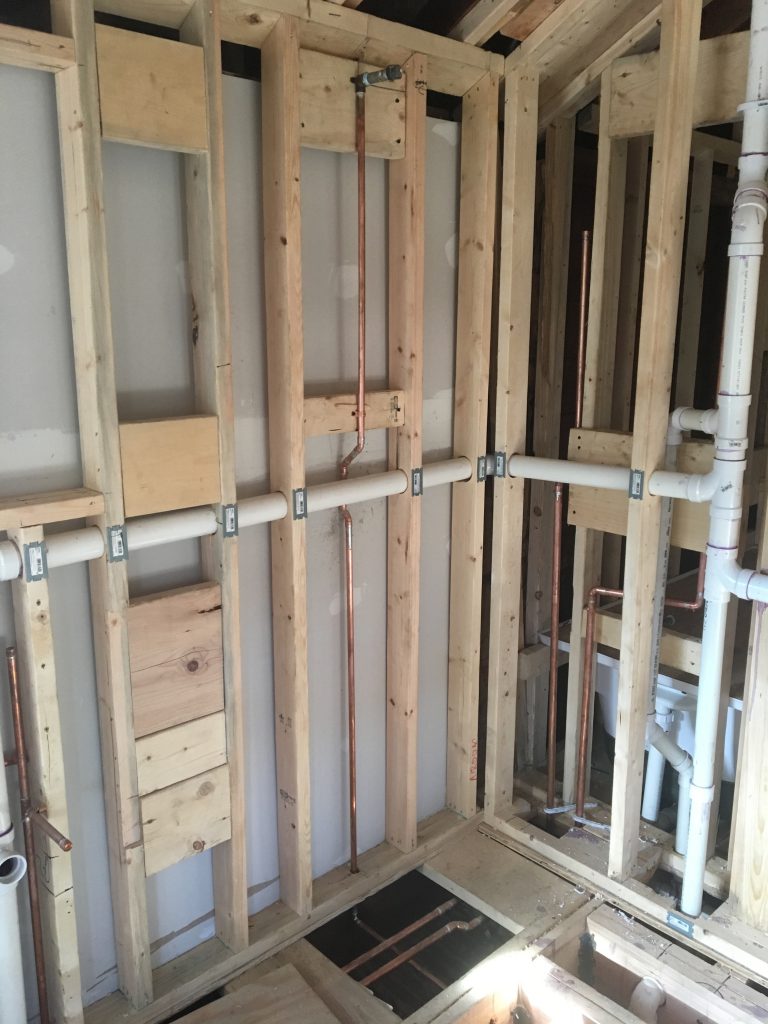 Master bath shower mixing valve.