The story of our relationship with this house begins with our twin house next door. Four years ago, in a hot and competitive real estate market, my wife and I fruitlessly searched for a home to buy for our expanding family. After seeing one boring home after another, this was a breath of fresh air.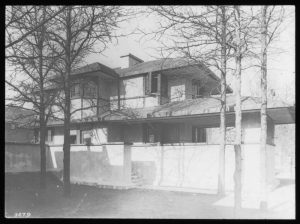 It was truly unique. It was impeccably renovated and every surface was new. The spaces were small, sure, and it lacked a bath tub and master bath, but it had the spaces we needed. It even had a beautifully finished basement. What it lacked in spaces it made up for in finishes and unique architecture.
The bidding was fast a furious and we were doomed before our bid was even submitted. An all-cash buyer swooped in, and our hopes were dashed.
Not long after, we were delighted when its twin went on the market. The twin was in rough shape! (See: catalog of Orth House II problems.) However, with images of Orth House I fresh in our minds, we quickly bought it and moved in.
We knew from the start that we would want to make some improvements, but we forced ourselves to live in the home for several years before starting any work.
Our 2,000 sq/ft 3 bedroom, 1 1/2 bath home is small by our area's standards. Despite its historic nature, our fear is that it could become a tear-down if it was not expanded.
Our vision for this renovation is simple:
Maintain the historic parts of the home. That means we aren't removing its historic windows, we aren't removing its built-ins, we aren't tearing down walls, we aren't changing the stairs.
Make modern upgrades to make the home more livable for a modern family. That means a master bath and addition with kitchen island and mud room.
Ensure the home will last another 100 years and preserve it for future generations. That means structural work to address sagging floors.
Overall, we hope that this renovation will make the home more livable for us, and more desirable for its eventual purchaser in the future.