Our builder made a lot of progress preparing for appliance installation, which included installing water and gas valves, electrical circuits, and protecting some floors.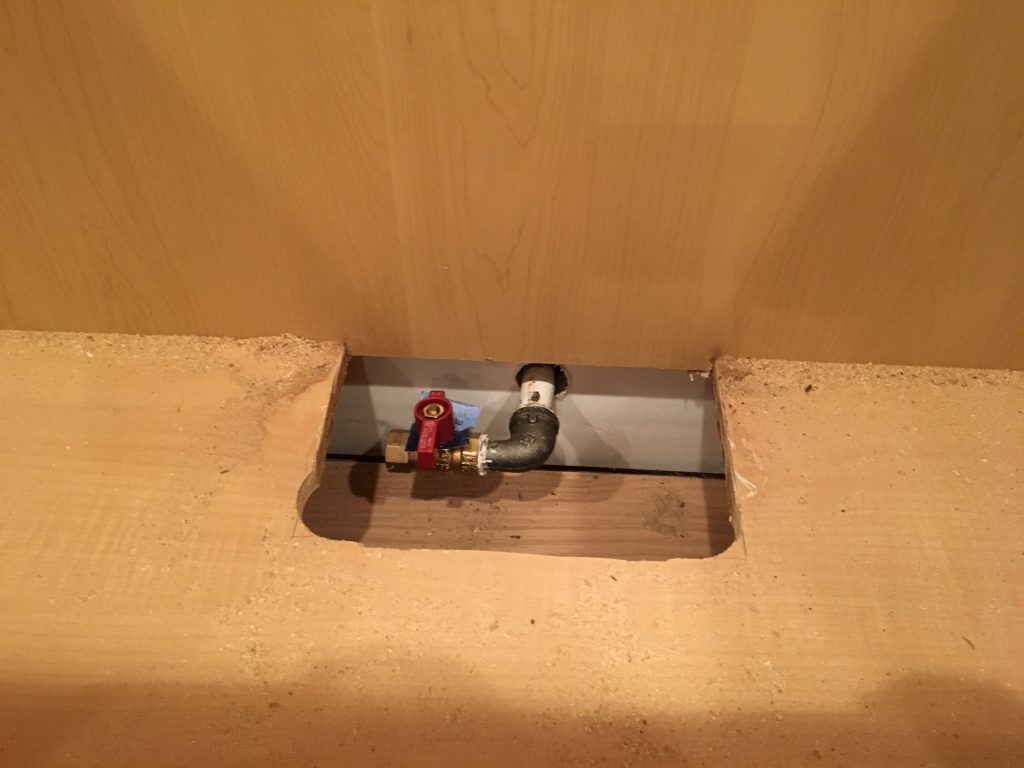 Below is a photo showing where the cooktop will be installed. The cooktop will be a tricky installation. We selected a contemporary cooktop that will be installed with a "waterfall" edge, in which holes must be drilled for the knobs. In the photo below, the drawers have been removed so that the plumber could attach the valve.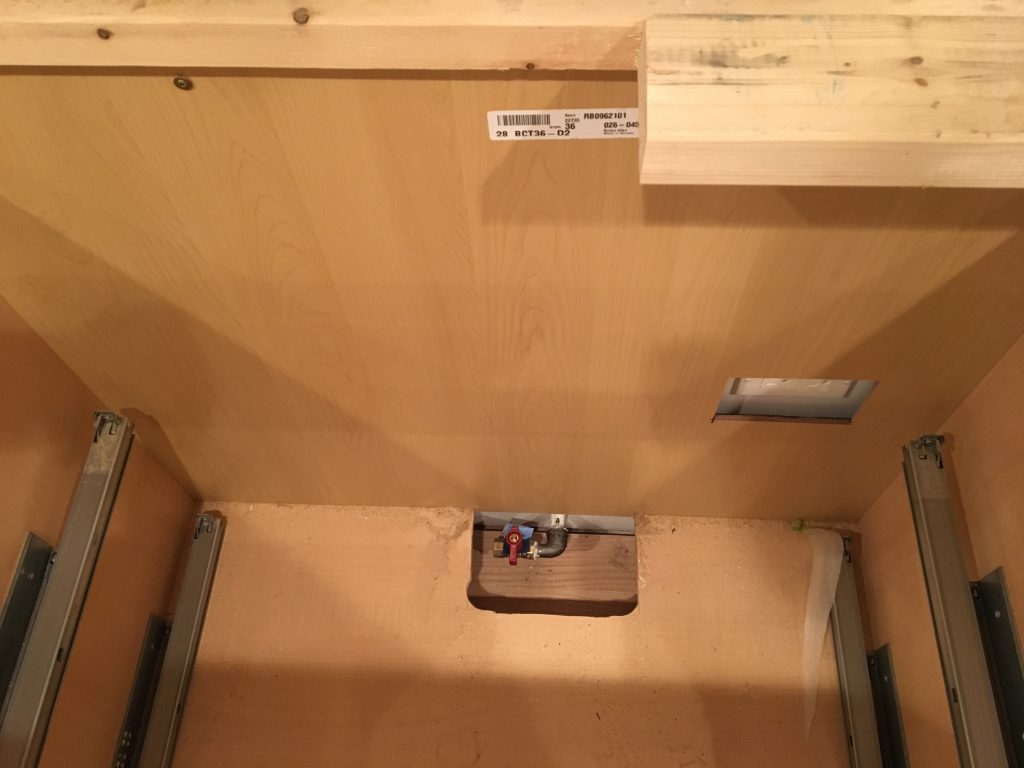 Before the refrigerator can be installed, we need a water line. That copper water line is under the floor and is in place, but it wasn't hooked up. The plumber connected these valves so that it can be installed and tested. The additional shut-off valves were also installed.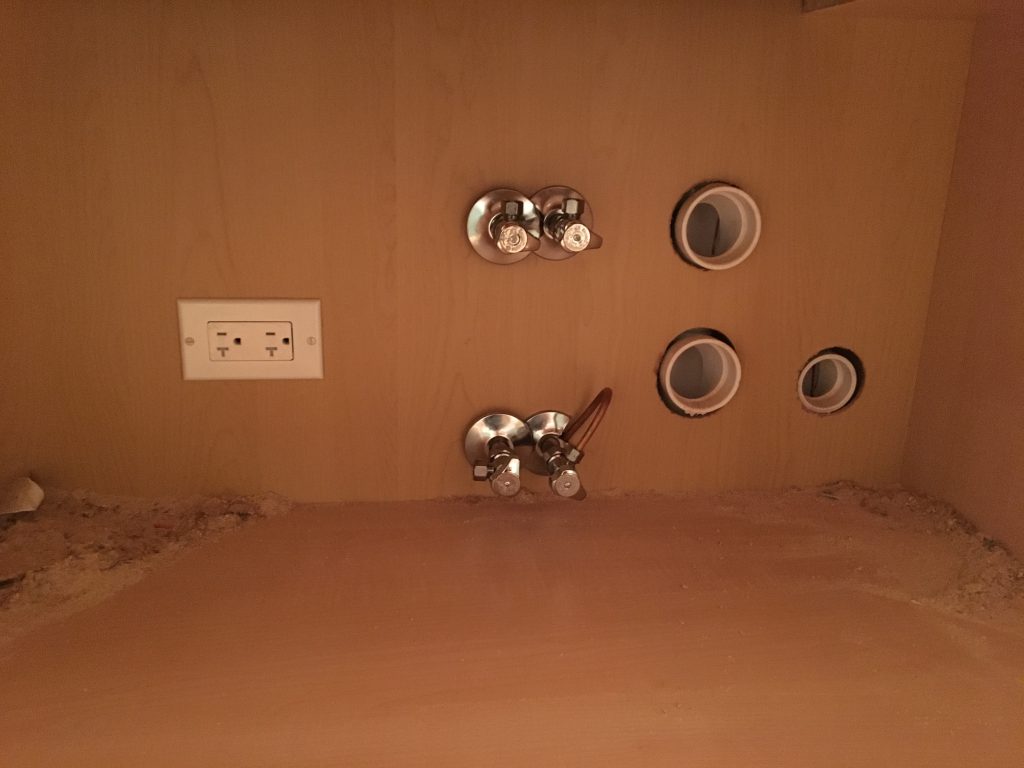 The coffee/wine bar will have a sink and drawer refrigerator/freezer. The plumber had forgotten the water line for the drawer refrigerator/freezer (which has an ice maker), so they added one, in addition to shut-off valves.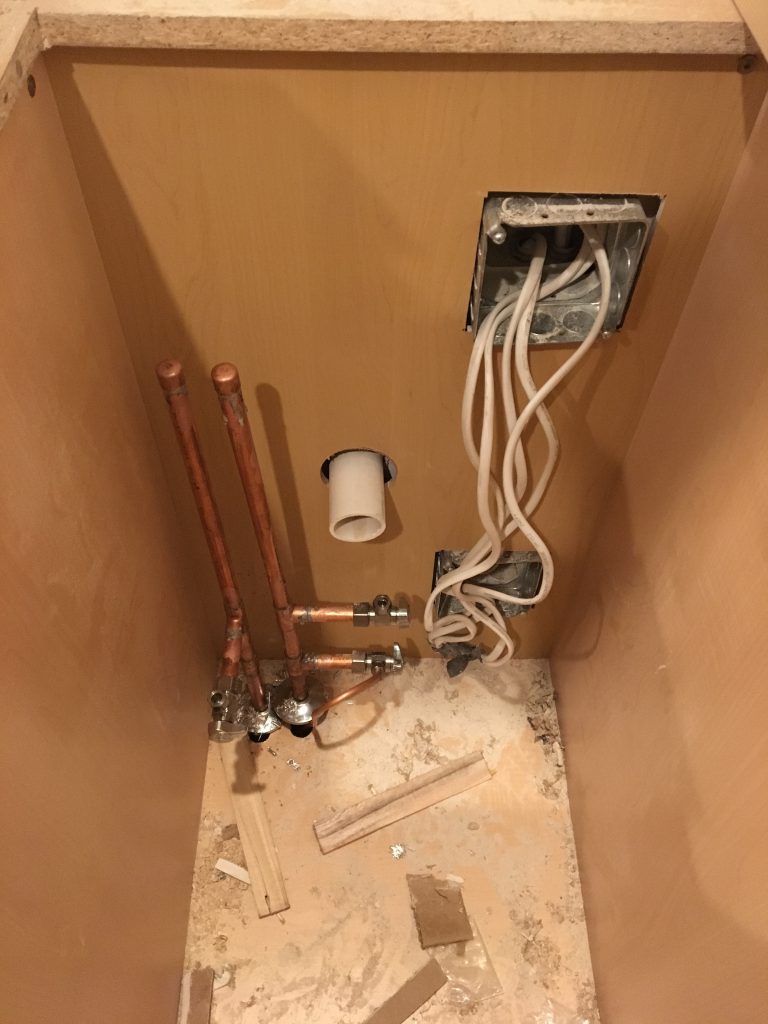 Here is where the drawer refrigerator/freezer will go. Notice the new water line. They also applied polyurethane to protect the floor under each appliance. Our builder will finish the floors as the very last step of the project.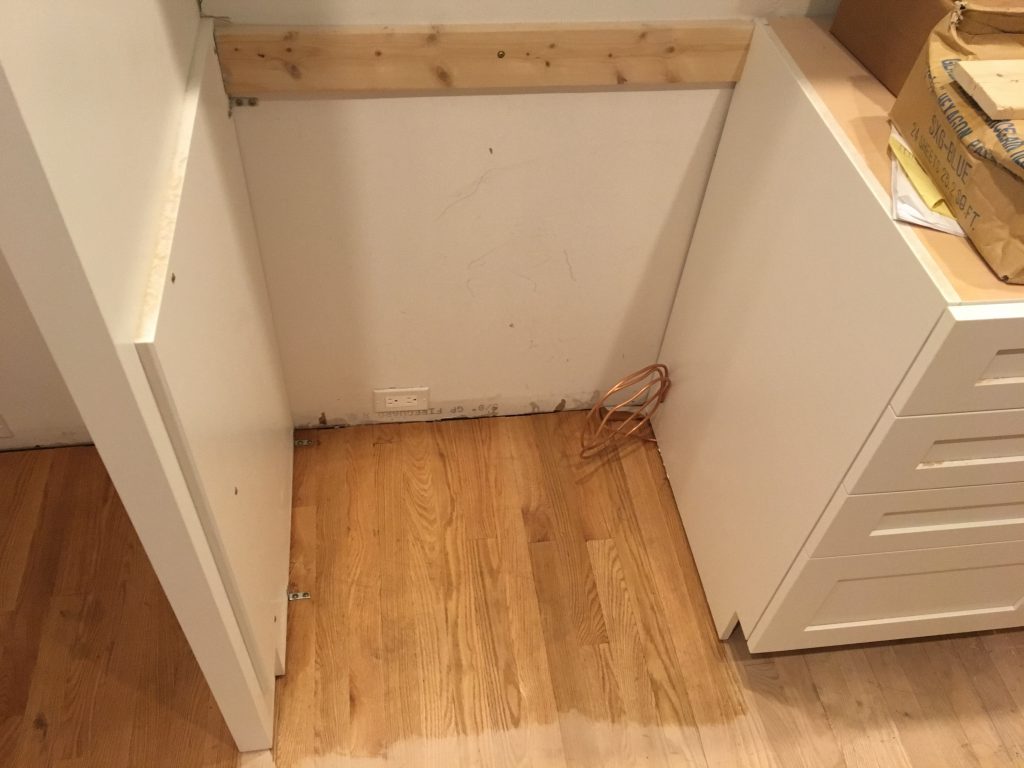 The double wall oven requires a 50 amp circuit. The electrician pulled these wires through and hooked up the circuit. This appliance is directly wired in; it doesn't have an outlet. The appliance installer will need to cut the back out of this cabinet for the oven to fit.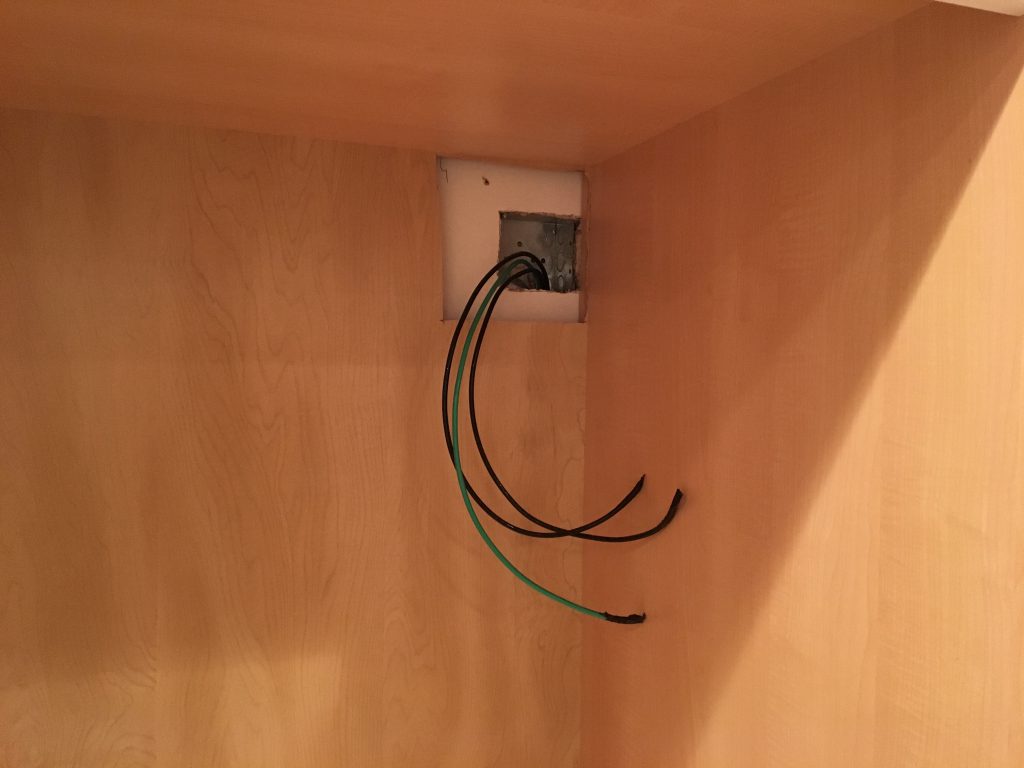 Location of the refrigerator.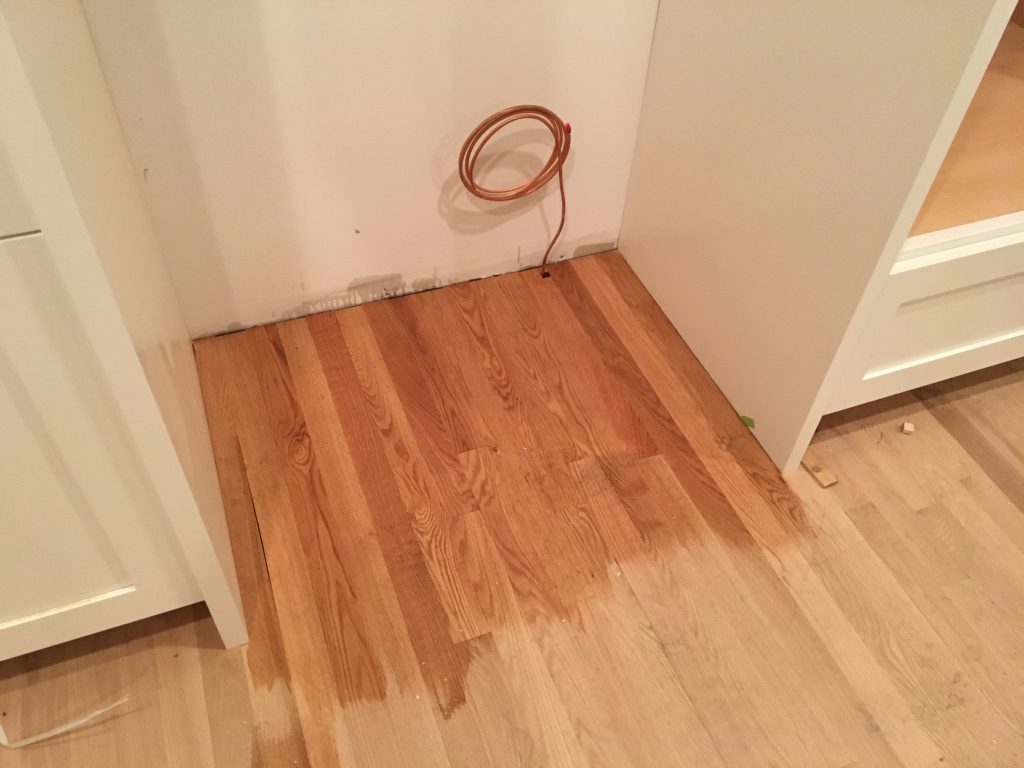 Location of the wine refrigerator.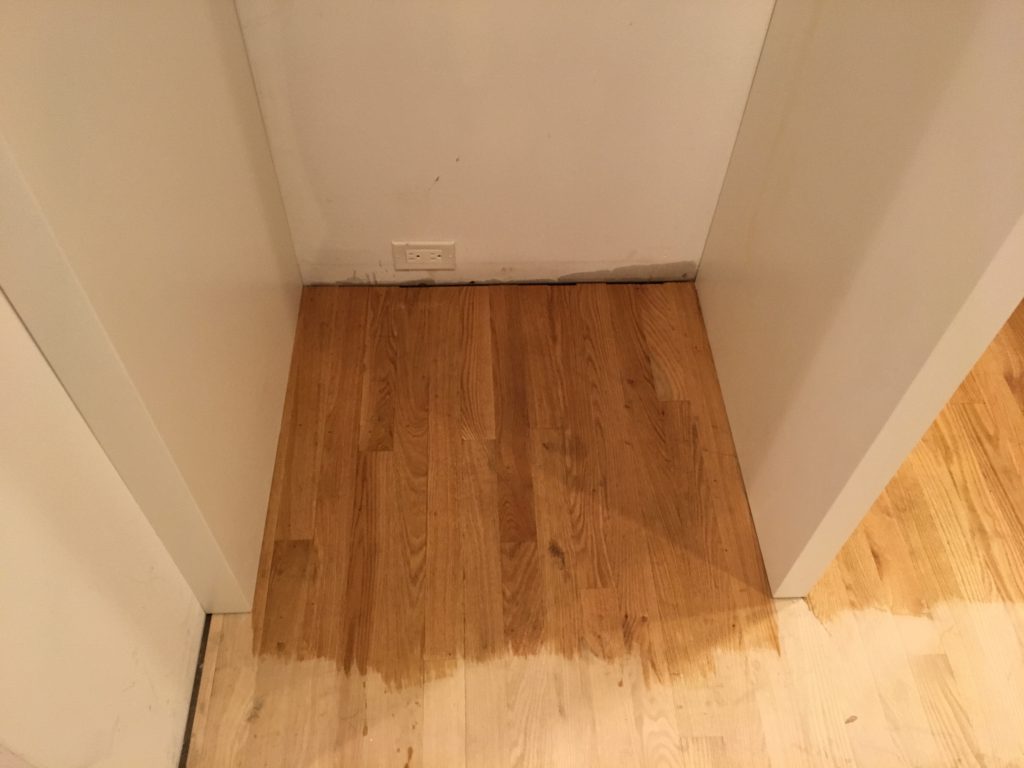 Location of the dishwasher.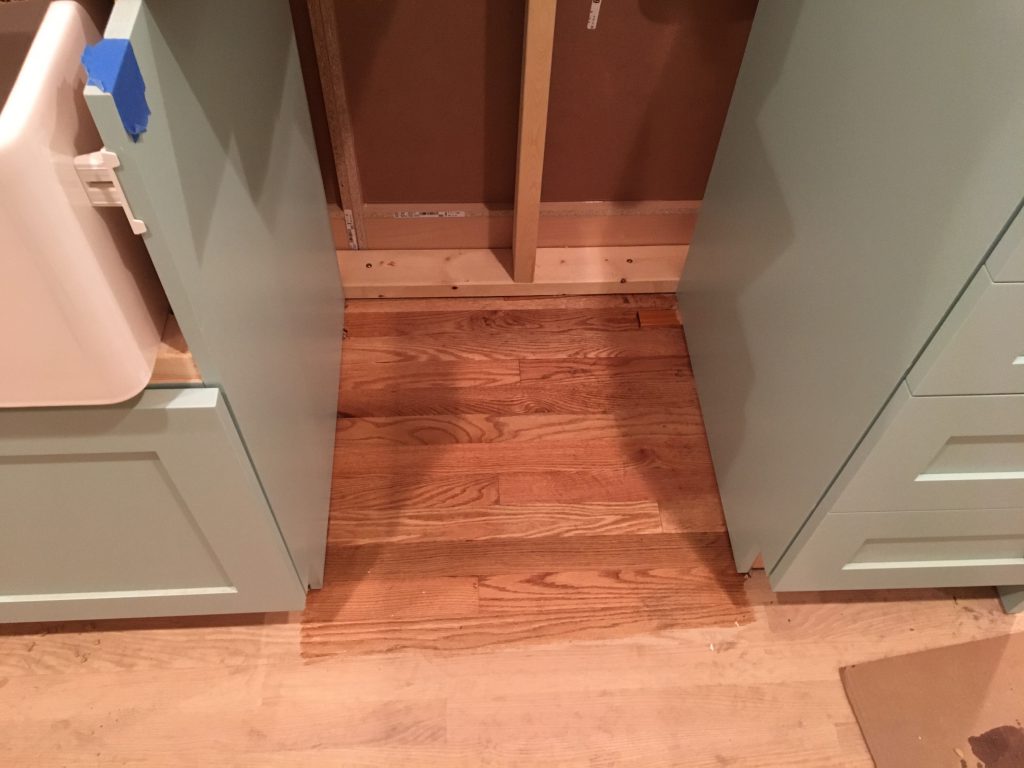 Things start to get interesting once the appliances arrive. Wow!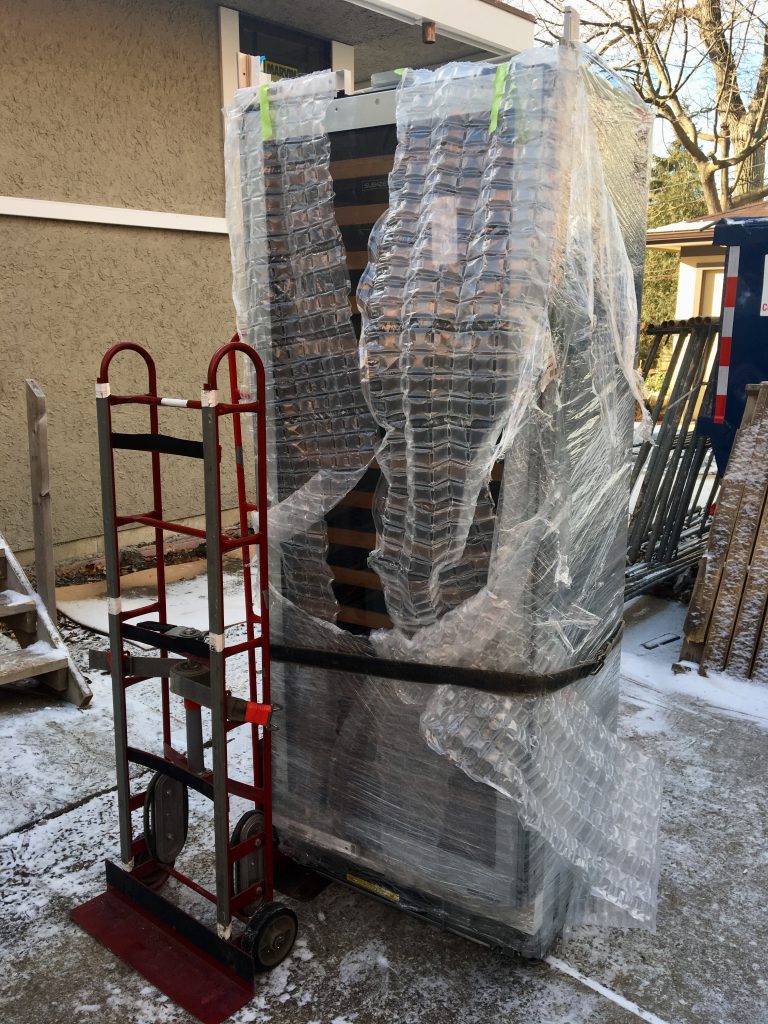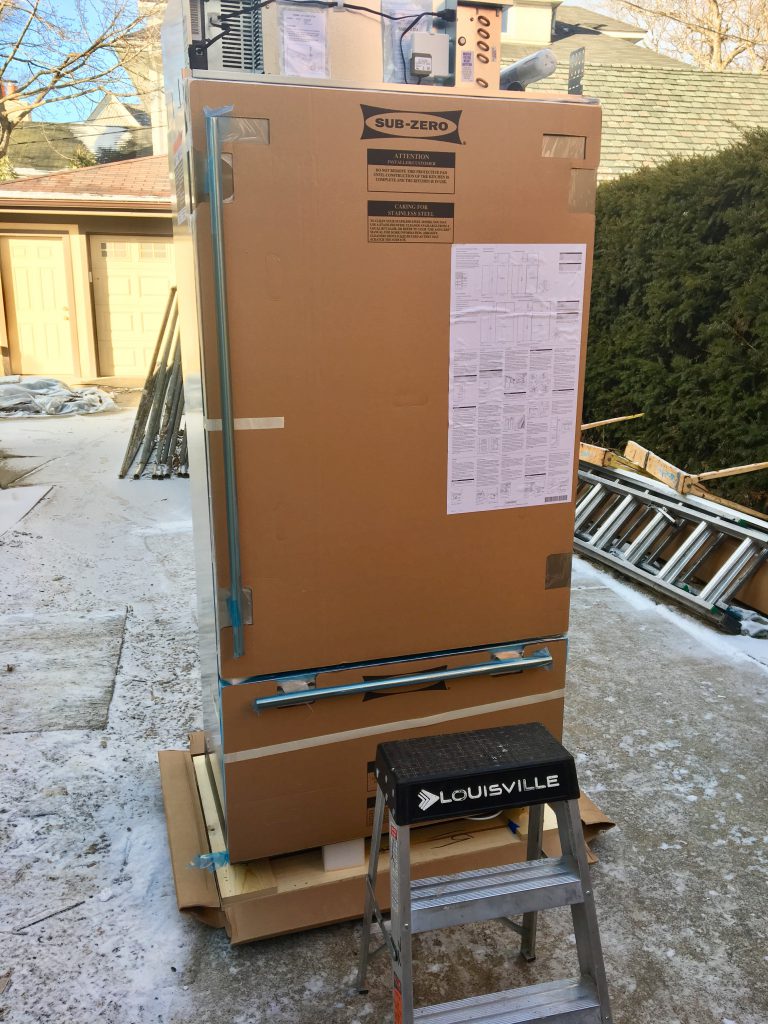 The first appliance to be installed is the microwave. It isn't a drawer microwave because I was too afraid that the mechanism would break or things would spill. The handle matches the oven. (One minor issue is that this isn't flush with the front of the cabinetry as intended; our builder is looking into that.)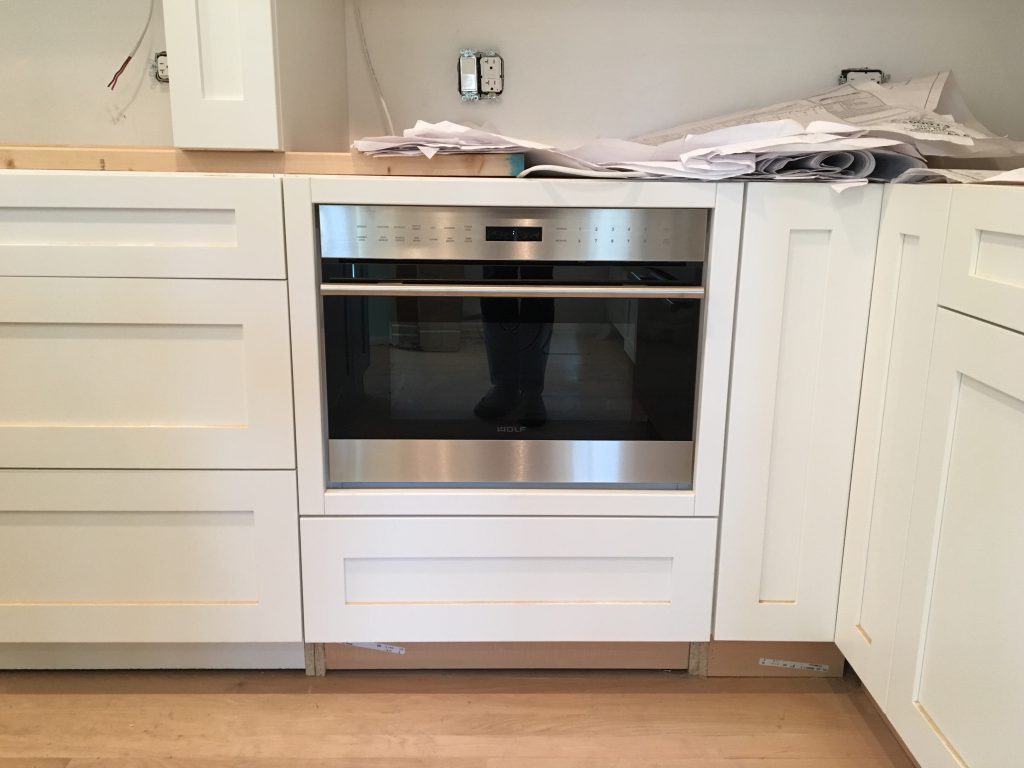 The dishwasher will have a panel. It can't be installed until after the sink has been installed and the drain and garbage disposal have been put in. So, it's just sitting here.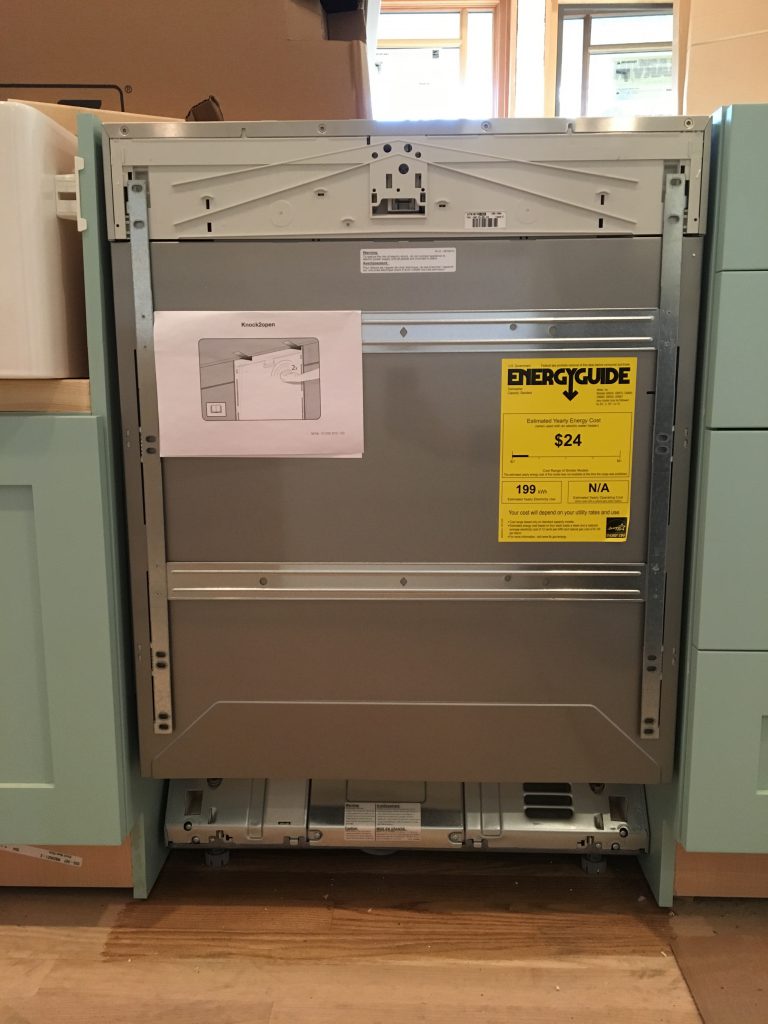 The wine cabinet will also have a panel, as will the drawer refrigerator/freezer.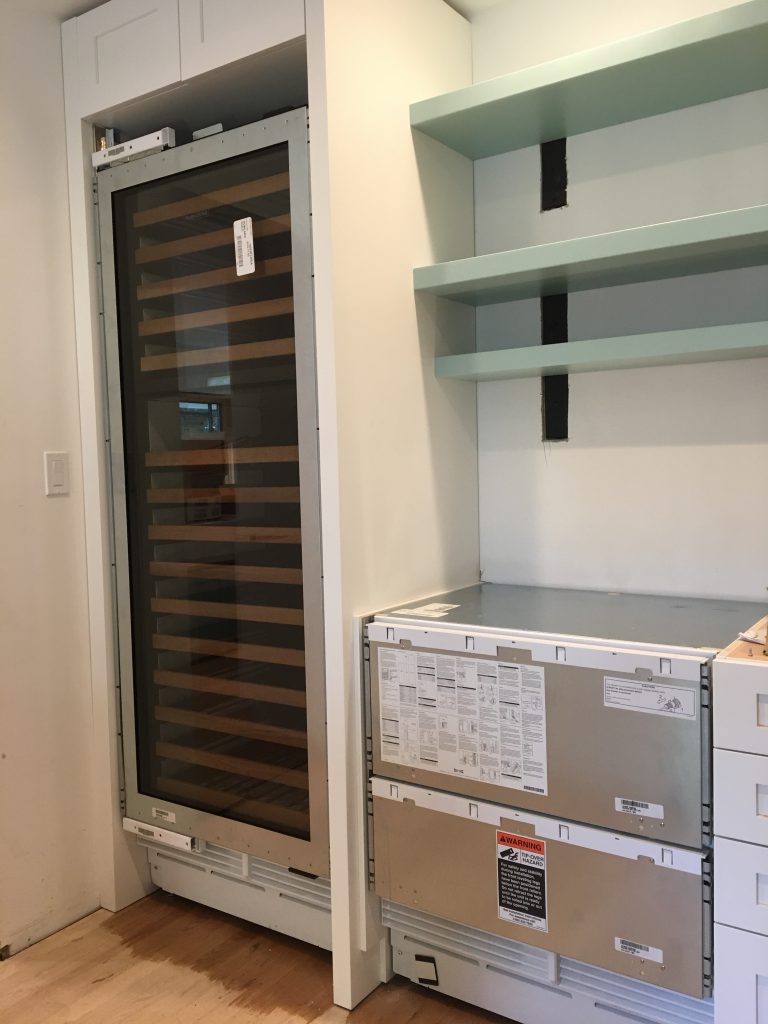 And, last but not least, here is the glass door refrigerator and the double wall oven. Both have wifi.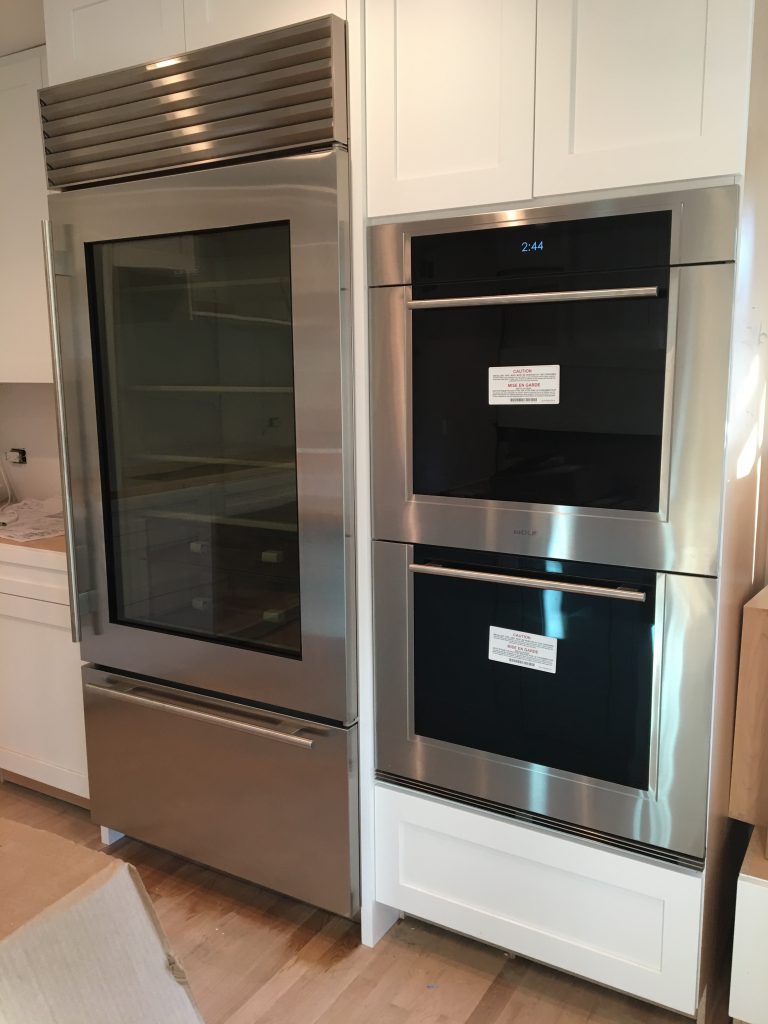 It was very exciting to see all of these go in, and I'm really happy that this went smoothly. Next up: the countertops! One that has been installed, plumbing, trim, and all of the final details will come together at last.
Two things that haven't been installed yet are the vent hood and the cooktop. The cabinet for the vent hood had to be re-ordered. Twice. Hopefully the third cabinet will fit. And, the cooktop cannot be installed until after the countertop has been installed.